More Layoffs at Entrepreneur

Source: At least five editorial staffers to be let go.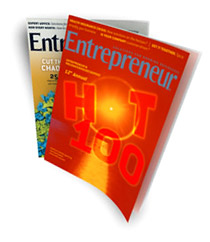 Just weeks after the deal that would have had Texas-based private equity firm Austin Ventures acquiring Entrepreneur Media died, the publisher is expected to lay off about 10 staffers today from its flagship Entrepreneur magazine, a knowledgeable source tells FOLIO:. At least five of the employees are from editorial.
The editorial positions said to be cut include: the copy chief, the copy editor, the articles editor, a staff writer and the executive assistant.
Entrepreneur's creative director also was let go, according to the source.
It was not immediately clear what the other affected positions would be. An Entrepreneur spokesperson declined to comment, other than to say the moves were made as part of a reorganization of the content development team.
Along with recently-named executive editor Charlotte Jensen, Mike Werling, who was appointed managing editor, and Megan Roy, who was named design director, will help oversee the new editorial department, the spokesperson said.
The failed acquisition, which had been in a due diligence phase, fell apart because "the debt market has made it a very difficult market for [buyout] funds to raise debt financing at a reasonable multiple and percentage rate," Entrepreneur Media CEO Peter Shea wrote in a memo to staffers.
Through June, Entrepreneur's ad pages were down 4.3 percent compared to the first half of 2007, according to Publishers Information Bureau figures. Ad revenue was off 2.3 percent.
In June, executive editors Maria Valdez Haubrich and Karen Axelton resigned following the April departure of longtime editor Rieva Lesonsky.
Meet the Author
---