More Than 10 Potential Buyers Step Forward for Discover

Sale process for the magazine could be done by end of summer.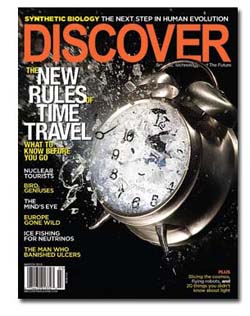 First-round offers for Discover magazine came in yesterday and, according to CEO Henry Donahue, have come from bidders numbering in the "low double-digits."
If all goes well, Donahue says the company will close a deal by the end of the summer. It is still uncertain at this stage whether the deal will be an outright sale or a major capital investment.
FOLIO: learned earlier this month that the 700,000-circulation magazine had been put up for sale, with first-round bids due May 17.
In the meantime, Donahue, Andy Buckholtz—who's brokering the deal—and Discover's two private equity owners, WallerSutton and Sandler Capital Management, will sift through the offers to whittle down the list to about a half-dozen serious bidders. "Some people are just fishing," says Donahue.
One knowledgeable source says there may in fact be more gawkers than not. "There are so many vultures out there that will look at anything," says the source, who wishes to remain anonymous. "If you look at the strategic pool, they're not looking at any magazine deals. What you end up with is people on the fringe and oddball investors. At the end of the day, it's not going to be a 'magazine M&A is back' kind of story."
Nevertheless, Donahue contends the interest is coming from strategic and financial buyers, and offers have come in at "the higher end of our expectation range."
Another source, who has knowledge of the offering process, says the deal sets up an interesting dynamic between the dual ownership. "People who would have exited by now have not, the environment is not a favorable one for a sale. I don't know why you'd pick this year [to sell]. You don't have a lot of profit. Discover's digital initiatives have some traction, but they haven't been fully monetized yet, so what you should do is hold on for a year and sell in a more favorable environment for better results."
Since Discover is on the block, says the source, it means at least one of Discover's PE firms need to exit. "The attitude must be 'if we get a reasonable price, then we're sellers.' There's nothing disingenuous about that, but you need to validate what the business is worth and the best way to do that is to go to the market and see what it is willing to pay."
Meet the Author
---