This Month's Cover: Good or Bad?

Take the Face Up survey.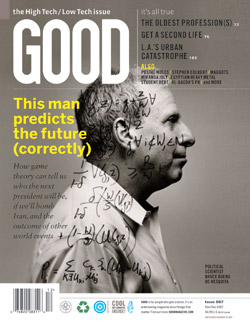 Good got some bad reviews on its December cover from panelists in this month's FOLIO: Face Up, but let's not ignore the positives: Laura Wall says it is "contemporary and compositionally interesting." Unlike Paul Lee, who doesn't get the monochromatic look, Anthony Ficke thinks the use of a limited color palette "gives the image a chance to stand on its own." Ficke also likes the profile shot and thinks the use of the equation is a "creative use of text combined with design."
On the negative side, Wall says at first glance she couldn't even understand what the magazine was about—"a real problem if you are trying to attract a newsstand readership." It could be. But it took time for Bruce Bueno de Mesquita, the game theorist featured on the cover who uses math to predict the future, to gain respect from much of anyone. Now, his work has been used by the CIA, Fortune 500 companies and the U.S. Department of Defense, according to Good's article. Maybe, in a way, it's just harmony of subject and form.
What do you think?
Click here to take the quick Face Up poll for a chance to win an iPod Shuffle.
Meet the Author
---