Money Site Goes Broadband

CNNMoney to feature 30 originally produced videos daily.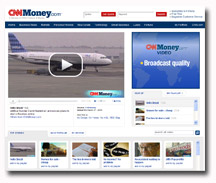 Time Inc.'s CNNMoney.com has redesigned its site in preparation for the launch this week of an online initiative that the company says will feature about 30 originally produced videos each day.
The site's new video content will include daily segments, weekly shows, monthly programming and annual specials. Weekly and monthly produced packages will come from Time Inc.'s Fortune, Money and Fortune Small Business titles.
According to CNNMoney executive editor and vice president Chris Peacock, the site has "a team of producers who can shoot, edit, produce and report from anywhere in the country and get up-to-the-minute coverage for our viewers in real time."
Meet the Author
---