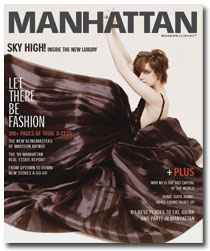 As it preps for the September launch of Manhattan magazine, Modern Luxury Media has acquired luxury lifestyle e-zine Juli B, bringing a 700,000-name email list of readers in fourteen cities with it. Terms of the deal were not disclosed.
Juli B. delivers approximately 60 million email impressions per year, according to Modern Luxury CEO Michael Kong, as each edition is bi-weekly. "Many city magazines offer 'email blasts' to their subscribers that don't even top 5,000 recipients," Kong wrote to FOLIO: in an email. "With Juli B., we've got real scale and should be right on the radar screen of big national advertisers as well as smaller regional ones."
Modern Luxury will publish magazines in thirteen of Juli B.'s fourteen markets once it launches Manhattan, which will be distributed directly to 60,000 New York metropolitan area homes. The acquisition is particularly timely, according to the company, because of Juli B.'s "New York roots and the fact that the New York edition was the first and remains the biggest," with approximately 108,000 of its readers located there.
According to Kong, Manhattan surpassed its first issue ad revenue goal of $1 million several months ago. The magazine is set to launch with about 240 pages, 60 percent of which will be editorial.
The acquisition of Juli B. is a first move in a series of planned digital initiatives, according to the company. Modern Luxury will announce another "major launch" in the coming weeks, Kong wrote.