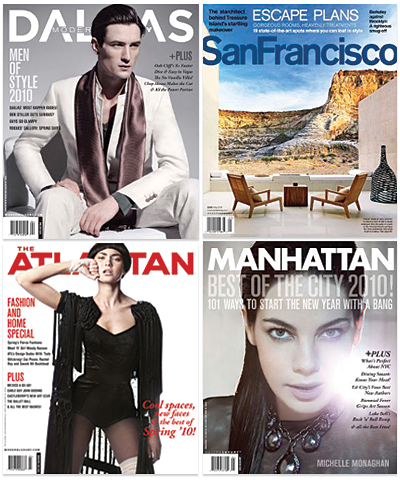 After going on the block this spring, regional magazine publisher Modern Luxury Media has agreed to be sold to Atlanta-based Dickey Publishing. Under terms of the deal, Modern Luxury will be managed by Dickey-controlled radio broadcaster Cumulus Media, under its Structured Management Services division.
The sale price was not disclosed. Macquarie Capital Inc. will provide debt and equity funding for the transaction, Dickey Publishing says.
Modern Luxury Media publishes several regional titles, including Modern Luxury Dallas, Modern Luxury Hawaii, San Francisco, Manhattan, The Atlantan and Angeleno, as well as several brides magazines and hotel titles. When the company put itself on the market in late April, a company spokesperson told FOLIO: that it was contemplating a sale "because the business has strengthened and there have been multiple expressions of interest."
But despite the company's supposed strength, the sale to Dickey Publishing was rumored to be for just north of $20 million. Modern Media was sold three years ago for $243 million.
"There has been keen interest in Modern Luxury from several interested buyers," Modern Luxury CEO Bill Cobert says in a statement announcing the sale. "Dickey Publishing distinguished themselves in a number of respects, by placing the greatest value on Modern Luxury, our team, our brands, and each of our markets. We believe they will be a superb steward of the business going forward."
Modern Luxury lost its founder and previous chief executive, Michael Kong, earlier this year after lenders including GE Business Financial Services took control of the company. Kong was said to have defaulted on $120 million in debt.
In addition to Cumulus Media, Dickey publishes regional magazines including JEZEBEL and Atlanta Luxury Living. Dickey Publishing CEO Lew Dickey also serves as chairman and CEO of Cumulus Media.
Berkery Noyes represented Modern Luxury in the transaction.