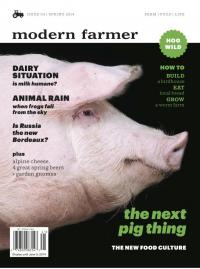 Rooster, goat, sheep, pig…elephant?
Modern Farmer's first four covers feature animals you'd find in a barn, but the year-old title just picked up an Ellie-named for its elephant-styled statue-at the National Magazine Awards. The group drew a standing applause as it was announced the winner for best magazine section, beating out a cast of big names in Vanity Fair, GQ, New York and Road & Track.
Obviously, it hasn't been a very long road for the startup, but no launch process is easy. Ann Marie Gardner, Modern Farmer's CEO and editor-in-chief, faced skepticism starting a media business in the current environment.
"People say, 'I can't believe you launched a magazine in this climate,'" Gardner says. "Get a clue. That's such an old-fashioned thing to say. I'm amazed people still think of us as just a print magazine. We're so much more and we launched purposefully as multiplatform entity. I guess people just see what they're familiar with, but it's still astounding to me that people don't see what we're doing in the larger realm."
That holistic approach is evident in the way Gardner structured the operation from the start. Modern Farmer's team is small- they've got just nine people, with six of them in editorial-but its directives are clear, Gardner says: content, community and commerce. It's built around types of interaction, independent of mediums or revenue streams.
Content has been the first priority-Gardner's an editor, after all-and the group has made impressive strides. Apart from its Ellie, Modern Farmer's digital audience has grown from 200,000 unique visitors per month, to 600,000 since their April 2013 launch, Gardner says. She's projecting they'll double that number by the end of this year.
Print is growing too, especially on the newsstand where they're putting 50,000 to 60,000 copies per quarterly issue. Subscription readership has been smaller with about 14,000 subscribers, but Gardner is content with a small, highly-engaged base, wary of the old-media rate base trap.
Community and commerce are next, Gardner says.
"We'll build a community digitally very soon on the site," she says. "As we're growing, that's going to be one of the first things we go after because there are so many people who want to tell their stories. We want to engage with the community to get them involved. The next step is to do that in person with events, and then we'll build on our e-commerce."
Modern Farmer has experimented with community interactivity already with features like its live animal cam franchise (the site hosts a live stream of whatever animal is chosen for its cover), but, as Gardner says, they're looking at face-to-face events and other brand extensions, including possible TV and book deals, in the near future.
If all goes as planned, Modern Farmer should be profitable by early 2015.