The mobile Web has been a challenge, to say the least, for even the largest content publishers, and when it comes to city and regional magazines, strategies range from exploratory to non-existent.
This month's issue of FOLIO: has put a spotlight on city and regional magazine publishers and their strategies for reaching audiences, and advertisers, in the digital marketplace—our report shows that some publishers in this market are, in fact, responding aggressively to the changing marketplace despite previously held reservations. 
"Most city and regional magazines are struggling to grow digital divisions because we've been print publications all along," Ralph Martinelli, publisher of New York-based 55,000-circ Westchester Magazine, told FOLIO: in our April issue. "We're expanding our digital division into a separate entity—one of our main goals is to do a tremendous amount of daily digital-only content that does not appear in print, and we've brought in digital-only editors. From a sales point of view, our digital-only reps partner with the print ad reps to present complete packages that includes print, digital and events."
The mobile, digital advertising market could be the next big thing for city and regional magazines—at least according to a new forecast from BIA/Kelsey, a local media and advertising research and consultancy firm.
The firm predicts that mobile local advertising revenues will grow from $1.2 billion in 2012 to $9.1 billion in 2017, representing a compound annual growth rate of 43.9 percent. For the total U.S. mobile ad spending market, the firm estimates this sector to grow from $3.2 billion in 2012 to $16.8 billion in 2017.
"This puts locally targeted mobile ads at 38 percent of overall U.S. mobile ad spending in 2012, growing to 54 percent in 2017," a statement from the company says.
While search and display is top of mind, the firm notes that other areas of mobile are also growing:
Display advertising applied to apps and mobile Web inventory is estimated to grow from $379 million in 2012 to $2.7 billion in 2017.
Search will grow from $704 million in 2012 to $5.7 billion in 2017.
SMS messaging will grow from $101 million to $162 million in 2017.
Video distributed within apps and mobile Web inventory will grow from $38 million in 2012 to $515 million 2017.
Since local mobile ad revenue is estimated to account for a whopping 54 percent of overall U.S. mobile ad spending, city and regional magazines are well positioned to tap the national advertising market in ways they never dreamed of. Local communities not only trust city and regional mags, but these brands have the audience infrastructure and local knowledge to offer national ad partners exciting new options in their quest for local ad messaging.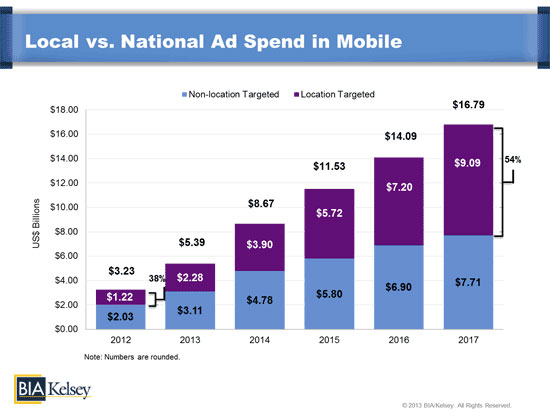 T.J. Raphael is the Associate Editor of FOLIO:. Follow her on Twitter: @TJRaphael