Mobile Media Solutions

How publishers, from market leaders to small trades, are approaching mobile.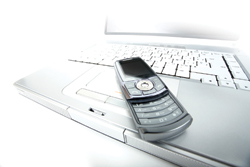 Mobile marketing has had its share of starts and stops in recent years but the release of smartphones gives publishers and their advertisers unprecedented opportunity to reach their audiences in a new, much more targeted way.
But how do print publishers, most of which are still struggling to develop meaningful online strategies, adapt to such a new format? In this article, FOLIO: covers a range of approaches, from cutting-edge mass consumer publishers to dedicated mobile development firms to options for smaller publishers looking to join the game as well (often with help from their digital edition provider).
The Market leaders: Build (Or Buy) Your Own
While fostering a mobile presence isn't a new strategy for the "big guys" in consumer publishing, the last year has brought a new set of challenges as the technology continues to evolve and expand. Publishers are now focusing on developing mobile apps for iPhones and smartphones in addition to building out their mobile Web sites—and that's before even tackling the onslaught of e-readers and the highly anticipated iPad.
Hearst Corp. recently created a new opportunity for itself by combining popular topics like celebrities and sports with the growing interest in mobile applications via its creation of LMK ("Let Me Know"), a digital company that curates, designs and delivers content on popular topics over Apple's iPhone.
LMK offers nearly 70 topic-specific apps dedicated to subjects like pop music star Lady Gaga, and the New York Yankees baseball team. Each app, which starts at $0.99 and is available for download on the iPhone and the iPod Touch, provides "curated news" and a photo stream that is continuously updated from third party sources. Hearst plans to add specific product enhancements over the coming months that will expand LMK's delivery experience.
"We saw an interesting market opportunity to break through the clutter of Internet search results and build digital products that curate, package and deliver the most authoritative content on subjects that matter to consumers," says Michael Gutkowski, president of LMK.
Martha Stewart Living Omnimedia has also been focusing on building up its mobile offerings in 2010. In February, the company released its first app for iPhone and iPod Touch users targeted toward readers of Everyday Food. The app allows users to access recipes and daily dinner ideas, create grocery lists and find store locations.
"The Everyday Food app is the best expression of our mobile strategy," says Janet Balis, executive vice president of sales and marketing at MSLO. "In its first week in the Apple iTunes store, it became the number one most downloaded app in the paid lifestyle category."
But MSLO also realizes that while iPhones and smartphones are growing in popularity, not everyone is ready to make the switch. That is why the company is working on branded communication via Short Messaging service. "We want have the opportunity to interact with consumers through text," says Balis. "It's a key vertical for us."
MSLO has also been experimenting with mobile barcode technology through SnapTag. In the November 2009 issue of Everyday Food, readers were prompted to snap and send photos of an icon found in the ad pages of the magazine and then opt-in to receive promotional info as well as additional info from the editors. "We saw phenomenal results, "Balis says. "We received 6,500 responses, which is three times more than the prior best in the industry."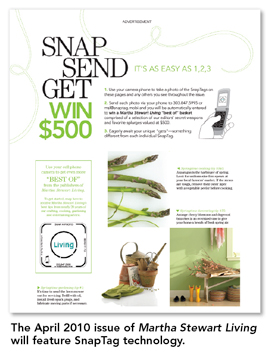 The April issue of Martha Stewart Living will be a "Snapped" issue with advertisers including GMC, Uncle Ben's, Rembrandt and Neutrogena participating.
Condé Nast's Golf Digest is also experimenting with mobile barcode technology. With its November 2009 issue, it became the first title to utilize Microsoft's High Capacity Color Barcode technology, which prompts consumers to scan a code found in the print magazine using the internal camera on a smartphone. In Golf Digest, readers are directed to an online video that demonstrates the golf techniques featured in the magazine.
"When the concept came out, we automatically knew that it was right for our readers, who are tech savvy and early adapters of smartphones," says Tom Bair, VP and publishing director of Golf Digest Publications. "About 45 percent of our readers have purchased iPhones in the last 12 months. So it was a great opportunity for us to roll out the technology from an editorial standpoint."
The technology has been used in every issue of Golf Digest for both editorial and advertising purposes and over 250,000 downloads have been recorded, according to the company.  The magazine is also launching two branded iPhone apps—one that mirrors the magazine's annual "Hot List" feature and highlights the best in golf equipment, and another called "Tips Plus," which provides golf instruction. "The bulk of our readers are still getting the content from our magazine, but we always want to be able to reach them wherever they are," says Bair.
Meredith has also launched two iPhone apps this year, the Parents-branded "iPlay 'n Learn" app, which features educational games and activities for preschool and kindergarten children and has been downloaded 20,000 times so far, and the "Mixing Bowl" app, which allows members of the MixingBowl.com community to extend their social activity to their phones. 
"When it comes to mobile, it's not simply pushing magazine content onto handsets," says Wendy Riches, chief strategy officer, Meredith National Media Group. "It's about extending our brand relationship and providing real-time value to consumers through their phones. For some consumers, the mobile experience may be their first contact with our brands and we'll look for opportunities to deepen the relationship."
The company, however, took an even bigger strategic step as far as its involvement in mobile technology by investing in mobile marketing firm Hyperfactory. Although the company had little to do with Meredith's current iPhone apps, the firm will assist Meredith in its future mobile efforts.
Meanwhile, Meredith is connecting the dots between print and mobile with the April issue of Traditional Home. Five stories plus the Editor's Letter are "tagged" with a special icon that when scanned using the Microsoft Tag Reader app transfer to a video or Web extension of the article. Article tags are found within the features and readers can also identify selected videos through a special tag marker in the magazine's  table of contents.
One "Tip Clip" features an industry show tour with Traditional Home's Krissa Rossbund taking readers inside the recent New York International Gift Fair.
Beyond the iPhone
While the iPhone has rapidly become the dominant platform for mobile apps targeting the consumer market, a new crop of mobile Web developers such as Handmark, Moblico and PageSuite are working with publishers to get their content (and advertising) on other platforms, including the Android and Blackberry.
The Forbes.com Reader for Blackberry (developed by Handmark) offers users direct access to all recently published Forbes content and helps readers track investments with a live stocks list. Full stories are downloaded to the device and can be accessed with or without a data connection.
Forbes uses standard RSS formats and the XIgnite stocks API to deliver content. "We know that our audience increasingly relies on their mobile devices to stay informed and make business decisions and we developed for the dominant platform for business users," says Jeff Bauer, product and creative director at Forbes. "We also know that they are constantly engaging, so we offer a great experience even when they might not have a data connection." 
Handmark also works with smaller consumer and b-to-b publishers, including FierceMarkets. "We've got the cost model down to where we can do this for local press," says Handmark CEO Paul Reddick. "From a development perspective there is not a lot the publisher has to do unless they're not digital, although they should at least have a Web site and RSS or XML feeds we can pull from."
Custom media company Ascend Integrated Media has signed deals with two separate mobile specialists to create a series of mobile products. A partnership with Moblico will offer targeted messages and coupons to clients across different categories such as healthcare, gifts, fashion and home décor.
Earlier this year, Ascend partnered with Handmark to create and distribute smartphone applications, which include Web and landing page access, e-newsletters, digital magazines and newspapers, buyer's guides, interactive maps and exhibit guides and directories.
"The business model is evolving," says David Doherty, director of ad sales and sponsorships at Ascend Integrated Media. "Historically, we were a print publisher and over the last few years we've added a significant layer of digital. This year, we've added mobile and the last component is integrating all of that with social media."
Much of Ascend Integrated Media's focus has been on the live event space and it is developing mobile apps to serve event clients. "Those apps contain a lot of the same content that we distribute at our events and in print and online," says Doherty. "It could be an event guide or a floor map or a daily news publications. Now they're distributed in another vehicle. The powerful part of mobile is that it's at a place where you can take action on the content."
With Moblico, Ascend has concentrated on texting. "Texting can do a few things," says Doherty. "If you're doing a marketing campaign or have an event, you can do basic communications—reminders, venue changes, notification that new a DVD is coming out."
The next step is mobile couponing—a marketer can text a keyword to a consumer to receive 10 percent off at a restaurant. At an event, sponsors can use texting to offer more exhibitor content and drive traffic to their booth. "It's no different from the way we used to use direct mail," says Doherty.
Ascend is monetizing apps primarily through banner advertising. "It's early days but mobile has learned a lot from the interactive world and we can already report on metrics," says Doherty.  "Mobile requires more education for advertisers but this is a sexy media channel right now and people want to be a part of it."
On the texting side, there are a few more revenue opportunities, according to Doherty.  When a text goes out, it can feature "brought to you by" ads with a URL link or phone number. Sponsors can purchase 25 percent, 50 percent or 100 percent of the ad messages in the communication. At the event level, a sponsor could buy a promotional message that goes out to the attendee list.
Big Results For Local Magazine
Local publishers are benefitting from mobile as well. 435 Magazine, a regional publication for Kansas, developed a mobile program with Moblico for Smallcakes, a specialty bakery in Kansas City.
The partners created a mobile coupon promotion that was featured in the magazine, offering a free cupcake to customers who redeemed a mobile code. By texting to accept the giveaway, consumers then presented the confirmation in the store and collected their treat.
In the first three weeks the offer was live, the store had 123 people redeem the coupon—60 percent of which were new customers. Additionally, every single person who claimed the offer made purchases beyond just collecting the free cupcake.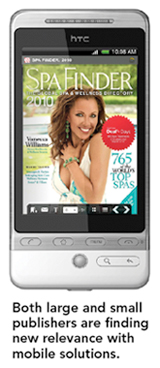 "We were pleased with the return we were getting on our advertising spend with the magazine, but the response we have received through the mobile promotion completely exceeded what we'd seen with the regular ads," says Smallcakes owner Jeff Martin. "The customers we have been attracting, people in their 20's and 30's, are exactly the demographic we've been after."
Working With Developers
Mobile vendors typically seek an ad revenue split with publishers. "Publishers want the services to come from them to advance their position and differentiate themselves from their competitors and we're more than happy to support a white label 'powered by' type model," says Moblico CEO Pierre Barbeau. "They tend to start with the simple stuff like text messaging, but it doesn't take them long to ask for more, and that's typically driven by the questions customers are asking."
Handmark charges publishers a startup fee and monthly rate unless the publisher generates significant traffic, in which case it may forgo the minimum fees and move directly to a share agreement with the ad revenue. "If we see there's enough advertising revenue, we'll blow past that," say Reddick. "Our model is to make money on revenue sharing as opposed to being an outsource development shop."
The revenue share varies based on whether Handmark sells or fulfills the advertising or the publisher does. While Reddick wouldn't share specific numbers for the startup fees, he says a small publisher could offer mobile apps for less than five figures per year.
Digital magazine vendors have been busy working on solutions across a variety of devices. iPhone apps are most ubiquitous, with offerings from Nxtbook, Texterity, Advanced, Qmags, iMirus and Zinio, among others.
Enthusiast publisher Premier Guitar recently teamed with Texterity to introduce a new branded iPhone app that's available at Apple's App Store. The app serves as a way to connect Premier Guitar's multiple approaches, including print, digital edition, Web site, gear and social media presence. Fresh content is fed in every time a reader opens the app (which is free). Readers can search current and past issues and post comments. 
"We instantly had thousands of downloads and thousands of sessions," says Peter Sprague, CEO of Gearhead Communications/Premier Guitar. "I am sure downloads will continue to escalate and we're receiving rave visitor reviews which you can see in the iStore directly."
 
Universal Publishing
While hype and expectations soar for the app-like interface, some are advising a level head. "Selling dedicated app solutions makes sense. We're getting calls about it every day," says Marcus Grimm, marketing director at Nxtbook, which just introduced its Syndicator service which boasts cross-platform content functionality. "But we pay close attention to the metrics. One of our first publishers to go on our mobile platform said 15 percent of his readers accept a digital magazine. And 15 percent of that 15 percent will actually read it on an iPhone. He realized he's only reaching about 2 percent of his audience."
Instead, Grimm says Nxtbook is focusing on "Web apps"—content delivered to an iPhone via a link to a smart phone-optimized, Web-based digital edition. While Nxtbook can develop an iPhone app, Grimm says the Web offers a cheaper and device-independent alternative. "It's not an app in the App Store, it's a Web app," says Grimm. "You click on the link and it pulls up an optimized Web site."
Similarly, consumer enthusiast publisher Harris Publishing recently started using the new Mygazines Mobile service, which uses the mobile Web browser (rather than creating device-specific apps) to offer digital editions across mobile devices ranging from the iPhone to the Android.
"We're trying to find extra ways for our subscribers to get the content of the magazines," says Chris Searle, digital manager and graphic designer with Harris. "We're giving them multiples ways to view it or access it at their convenience. When we were looking at digital magazines, we didn't want it to be another Web page full of additional information. We wanted to make sure it still had the look and feel of the magazine with its own identity."
SIDEBAR #1
Advertising Guidelines for Mobile
Every six months, the Mobile Marketing Association provides updated recommendations for the global ad units broadly used in mobile advertising in the following channels: Mobile Web, messaging, applications and mobile video and TV.
Below are MMA's current recommendations for two of the most common formats for publishers doing mobile: mobile banner ads and Short Messaging Service (texting).
Mobile Web Banner Ad Units
Aspect ratios: The recommended universal aspect ratios are 6:1 and 4:1. Key considerations for providing universal aspect ratios include:
*Keeping the aspect ratio constant simplifies re-sizing of images and reduces effort.
*Both aspect ratios provide sufficient creative space to ensure an effective advertising experience, yet small enough not to be intrusive. Having two aspect ratios gives publishers flexibility in terms of layout and positioning in different contexts.
Dimensions: The recommended universal Mobile Web banner ad widths are 120, 168, 216 and 300 pixels.
Media Formats: The recommended formats for mobile Web banner ads are GIF, PNG, or JPEG as universal formats for still images. GIF for animated images.
Text Messaging (Short Messaging Service)
Format: SMS is a text-only medium. It does not support rich media. However, some mobile phones with click-to-call or click-to-Web capability will display colored links and underlining of URLs and phone numbers. The font size is entirely controlled by the mobile phone and is not under the control of the advertiser or publisher.
Length: Current practice is typically ads under 20-26 characters, although some may go as high as 80 characters. Shorter copy allows for increased publishing inventory availability.
Location: Ad copy will be inserted only at the end of the content portion of the SMS. In the cases where the sender uses a personal SMS signature, the ad should be inserted after the signature.
SMS Ad Indicators: The publisher or advertising insertion partner is responsible for including an ad indicator in initial (Appened) SMS ads. There should be a clear separation between the text message content and the ad. A carriage return or line break is recommended, however not all carriers support line breaks, so an ad indicator should precede the ad copy. Acceptable ad indicators are:
• "*" (single asterisk)
• "**" (double asterisk)
• "AD:" (or similar local language abbreviation)
• * "-" (dash)
SIDEBAR #2
MPA Launches Magazine App Directory
Recognizing the growing interest and development of magazine-related mobile applications by its members, the Magazine Publishers of America last month launched "mapps," a directory of mobile apps produced by magazines and media companies. The launch coincided with last month's Magazines 24/7: The E-Reading Revolution conference.
"As technology advances, devices proliferate and consumer adoption increases, we expect healthy growth in magazine app development, and in turn, in our database," an MPA spokesperson tells FOLIO:.
Currently, the database includes 120 apps with links to download them. Several of the apps are free (Epicurious' "Recipes & Shopping List," Vogue's "Stylist," and several from Hearst's recently launched LMK) while a number are paid. The most costly is the Women's Health "Eat This, Not That!" app at $4.99.
MPA said the directory is growing and will include apps across not only mobile phones but also e-reader devices like the forthcoming Apple iPad.
 
SIDEBAR #3
3 Developers and Do-It-Yourself iPhone Apps
These days it's hard to find a magazine publisher (at least on the consumer side) who isn't interested in an iPhone app but it's even harder to find one with in-house apps expertise. However, every day a new online solution seems to emerge that gives the end-user the power.
The list of solutions is almost endless but here are three for publishers to consider:
Appcelerator (www.appcelerator.com): Requires knowing code but users can build iPhone apps with HTML, JavaScript, CSS, Python, PHP and Ruby.
eBook App Maker (http://ebookapp.com): While not free, this service develops iPhone apps from ebooks and can be used with PDF, doc, ZIP, HTML, RTF and other formats. It also supports a wide range of different fonts. 
Kanchoo (www.kanchoo.com): A platform designed for news organizations that lets content producers create native iPhone apps. Users must give Kanchoo an iPhone applications icon, a splash screen (in .png format) and a description of their application which will be used in the iTunes App store. Users can then leverage Kanchoo's online tools to build their own apps by uploading the content which can include text news articles or photos and other images.
Meet the Author
---