Mobile Apps for Publishers: Beyond the iPhone?

Forbes and others are working with Handmark to broaden mobile apps reach.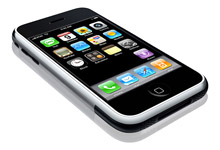 While the iPhone has rapidly become the dominant platform for mobile apps targeting the consumer market, mobile applications developer Handmark is working with publishers such as Forbes, Wall Street Journal and others to develop apps for simultaneous distribution on the iPhone as well as more business-focused products such as Blackberry and the new Android.
The Forbes.com Reader for Blackberry is Forbes' first work with Handmark and offers users direct access to all recently published Forbes content as well as helps them track investments with a live stocks list. Full stories are downloaded to the device and can be accessed with or without a data connection.
Forbes uses standard RSS formats and the XIgnite stocks API to deliver content. "We know that our audience increasingly relies of their mobile devices to stay informed and make business decisions and we developed for the dominant platform for business users," said Jeff Bauer, product and creative director at Forbes. "We also know that they are constantly engaging, so we offer a great experience even when they might not have a data connection."  
Not For Just Larger Publishers
Handmark also works with smaller consumer and b-to-b publishers, including Fierce Markets. "We've got the cost model down to where we can do this for local press," said Handmark CEO Paul Reddick, who indicated that Handmark is also currently in talks with a small Georgia newspaper.
"From development perspective there is not a lot the publisher has to do unless they're not digital (although they should at least have a web site and RSS or XML feeds we can pull from)," Reddick said.
Pricing
Handmark charges publishers a startup fee and monthly rate unless the publisher generates significant traffic, in which case it may forgo the minimum fees and move directly to a share agreement with the ad revenue. "If we see there's enough advertising revenue, we'll blow past that," said Reddick. "Our model is to make money on revenue sharing as opposed to being an outsource development shop. We consider ourselves a longer term partner not only for creating app but getting it distributed, getting it used, driving viewership and optimizing advertising and e-commerce."
The revenue share varies based on whether Handmark sells or fulfills the advertising or the publisher does. While Reddick wouldn't share specific numbers for the startup fees, he says a small publisher could offer mobile apps for less than five figures per year.
---
Best Practices For Launching Mobile Apps
Handmark CEO Paul Reddick offers four tips for publishers thinking about launching a mobile app:
1. Reach out to the social networks and elsewhere to let your audience know the app exists.

2. If you're going mobile, focus on content that's more real time. If it's a periodical or periodically read, people might not find as much value.

3. The ability to post and share from an app is important to people. When they share, they're saying, "Not only did I read this news, I read it from this particular publisher and you can get there too." Options should be included for posting on Facebook and Twitter but it needs to be be done in way that drives value for publisher. You don't want content ripped off and floating around without attribution.

4. Recognize there's more than just the iPhone. People with Blackberries and Android and others are avid readers too.
Meet the Author
---