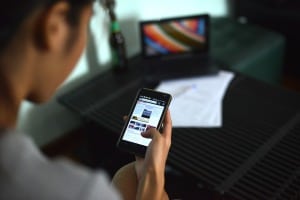 A staggering 63% of millennials use ad blocking software, according to a recently commissioned study by Retale. The study polled 500 U.S. adults and some of the results indicate adoption rates are growing quickly.
More notable, however, the study also revealed that one in five respondents admit to using ad blockers on their smartphone or tablet. This is a sharp spike compared to previous numbers reported by Folio: sister site min back in August 2015. "The Cost of Ad Blocking" from PageFair and Adobe found that ad blockers were catching on quickly but had yet to impact mobile devices. In fact, that report suggested mobile ad blocking was adopted by fewer than 2% of respondents.
Another interesting find in Retale's study is that 16% of respondents who aren't using ad blockers on mobile said "they want to" but don't think they can with their current device, indicating that more than one-third of respondents would block ads on mobile given the opportunity.
Domestically, ad blocking has become a major thorn in the sides of publishers and advertisers as the technology grew by 48 percent to reach 45 million active users from Q2 2014 to Q2 2015. With the next frontier clearly being mobile, digital advertising's future could be in serious jeopardy.
"Advertisers can't afford to ignore mobile ad blocking," said Pat Dermody, president of Retale, in a release. "As adoption expands, brands will need to factor these potential obstacles into their digital marketing strategy. In a separate study, we found that 60% of those who've clicked on mobile banner ads say they did so accidentally, with nearly 70% calling the clicks were annoying."
Another troubling stat is that only 17% of publishers are actually tracking ad blocking, and even fewer are actively doing anything about it.