Mobile Action Codes Increased 439 Percent in Top 100 Mags Last Year

QR codes accounted for 72 percent of the code formats used.
Mobile action codes, which include 2D barcodes, QR codes, Microsoft Tags and watermarks, have seen a tremendous uptake in magazine media in the last year. According to a recent study by mobile marketing firm Nellymoser, the top 100 magazines by circulation increased usage of the codes by 439 percent between the first and fourth quarters.
According to the study, there were 352 codes appearing in the top 100 titles in Q1, which increased to 1,899 in Q4—a total of 4,468 action codes appeared during the year.
Advertisers accounted for the vast majority of the codes—4,011—and by September the ratio of advertiser codes to editorial codes was 25:1.
Interestingly, editorial codes changed from video extensions of magazine features to sweepstakes-oriented programs.
Among other findings, by December 1 out of every 12 magazine ad pages had an action code. QR codes and Microsoft Tags dominated at 97 percent of all codes in the fourth quarter of 2011—but QR codes were by far the most popular at 72 percent of all used. Microsoft Tags were the more popular format for editorial use.
Video, opt-in/sweeps and social media were the top three post-scan engagements, and Nellymoser notes that it's rare now for a code to send a user to a standard, desktop website. Experiences are increasingly mobile-oriented.
Almost 40 percent of action codes used by advertisers were in the beauty, home and fashion markets.
Among the magazines featuring the codes, the top 10 accounted for 28 percent of all codes, and within the top 10, most of the codes appeared within women's magazines.
The full study is here.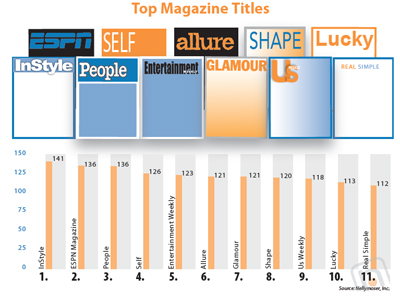 Source: Nellymoser, Inc.
Meet the Author
---