A Mixed Report from ABM's Women in B-to-B Awards

Winner: "It's not a glass ceiling—it's a plexiglass ceiling."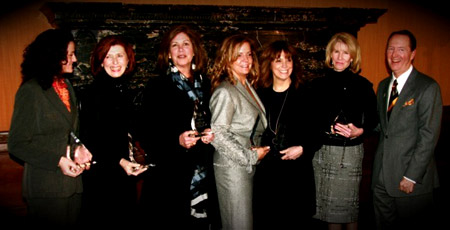 Left-to-Right: Deirdre Bigley, VP worldwide advertising and interactive, IBM; Peggy Walker, president and COO, Vance Publishing; Gloria Scoby, SVP/group publisher, Crain Communications; Mary Dolaher, CEO, IDG World Expo; Nina DiSesa, chairman, McCann-Erickson New York; Erin Moriarty, CBS News Correspondent, 48 Hours; Gordon Hughes, president and CEO, ABM.
American Business Media president and CEO Gordon Hughes, the only male to take the stage last night during the group's inaugural Women in Business-to-Business event at the Prince George Ballroom in New York City, kicked off the festivities with a brief reflection on the "long, arduous and overdue timeline" that has led to the "tipping point" of the ascension of women in business. He also recited an old adage he said his father used to say: "Having women present makes everything just a little bit better."
The event was staged to honor six successful women with the Gertrude Crain award for their respective achievements in b-to-b media, marketing and advertising. The crux of the evening was a lively and notably candid roundtable discussion—led by CBS News correspondent and Crain award recipient Erin Moriarty—on the past and current state of women in business. The roughly 150 attendees included a surprisingly large number of men and surprisingly small number of young women, as Moriarty pointed out with some disappointment, advising the men to "listen and learn."
A Mixed Report
Despite significant signs of improvement, women clearly still face significant hurdles in the workplace. "A lot of talented women come in with confidence but opt out in their early 30s," said award winner Nina DiSesa, chairman of McCann-Erickson New York. "They get worn out. It's not a glass ceiling—it's a plexiglass ceiling."
Moriarty said she sees that young women are more likely to express fear and doubt on the job, and admits that, as a leader, it affects her perception of their work versus that of male their counterparts. "Do you have to hide the fact that you're scared?" she asked.
"Of course you do," said DiSesa.
Award winner Peggy Walker, president and COO of Vance Publishing, agreed: "Women are raised to talk about their feelings, and that is dangerous in the workplace." She says she expresses her fears at home with her husband but "would never act that way in the office. I would caution against it." Walker is ABM's treasurer.
Climbing the Ladder
So how did these women make it to the top? "Directness," says award-winner Gloria Scoby, senior vice president and group publisher of Crain Communications, "creates uncomfortable situations, but I can differentiate myself in a go-along, get-along environment."
DiSesa cited an opposite strategy, somewhat controversial with the group of winners: "Learning how to manipulate men in a palatable way, without them resenting you for it," she said.
DiSesa explained that there is such thing as "benevolent manipulation," guiding someone towards a perspective or behavior by making them believe it's their idea. Scoby called this enabling, while Walker said it sounded more like leadership—a point that garnered applause from the crowd.
To get ahead, young women need to "be recognized as a go-to person who can get things done and can handle additional responsibilities," according to Walker.
Scoby stressed the importance of balance. "Work is work," she said. "People like to work with people who have a healthy attitude about life."
IBM's vice president of worldwide advertising and interactive, Deirdre Bigley, and IDG World Expo's CEO Mary Dolaher were also honored with a Gertrude Crain award.
UPDATE: Slideshow from the event. 
Meet the Author
---