Minimalism is In

When it comes to magazine covers these days, less is definitely more.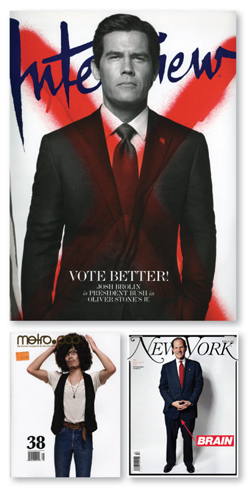 When it comes to trends, magazine cover design is cyclical. When every magazine is trying to be innovative—be it E-ink or loaded with coverlines and type, as Esquire has done—there's always an urge to move in the opposite direction. The latest (albeit not new) trend in cover design? Minimalism. Specifically, so-called "white space"—both literally and figuratively—and no cover lines.
It's a route normally reserved for political figures or prominent global personalities. Esquire's December 2000 cover shot of Bill Clinton might be the most prominent example, but Rolling Stone has also dabbled in the art of no cover lines, most recently with its July 10 Obama cover. (RS's iconic 1981 Lennon-Ono cover might've been the best example of its era.)
Capping Cover Lines
Magazines from Newsweek to Time to Black Enterprise treated Obama with few or no coverlines. Newsweek, for example, used just a number—44—to frame its post-election cover.  Other, non-political magazines have taken a stripped-down approach to covers. Brant Publications' recently-redesigned Interview, for one, used just nine words on its November issue cover, featuring "W" star Josh Brolin. Metro.pop went without any cover lines at all in October, save for "38"—its issue number. And Real Simple's November cover lived up to its name with a simple cover line in subdued color.
It's also generally considered a "risky" move for consumer magazines, as cover lines are seen as points of entry for people browsing at the newsstand. But Rolling Stone's July 10 cover of Obama was a success on the newsstand, selling 204,064 single copies according to the Audit Bureau of Circulations' Rapid Report, some 33 percent above its first half average of 115,644 and substantially more than its March 20 Obama cover, which sold 153,605 copies and was loaded with cover lines.
It also takes, one would imagine, a bit of ego-massaging. The "W" Interview issue, after all, includes interviews with Giorgio Armani and David Byrne—but you would never know it without opening the book.
The Fast Grab
Minimal covers are inherently effective in acknowledging at-once the reader's intelligence and news saturation. New York's award-winning Eliot Spitzer cover, for instance, summed up a voraciously-covered news event—in this case, the governor's affair with a prostitute—with one word and a well-placed arrow. And it, too, helped boost the magazine's newsstand sell-through, selling 27,446 single copies, roughly 20 percent more than normal.
Smaller magazines are trying minimal covers, too. Eldr, the magazine that "celebrates aging," recently published its one year anniversary issue touting "no cover lines" (it does have them, however unobtrusive).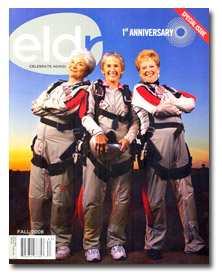 In Eldr's case, it was a photo that prompted sparse design. After experimenting with a number of cover line combinations, Eldr editor-in-chief Dave Bunnell decided to let the photo—of three female skydivers aged 78, 73, and 70—stand on its own. "Readers I tested this on all loved it and a couple even said it 'provoked' them to open the magazine," says Bunnell.
For magazines dependent on newsstand revenue, of course, going "nude" isn't always a viable option. "Newsstand to us is a very minor part of our circulation strategy," Bunnell says. "So I decided it was worth the risk."
Meet the Author
---