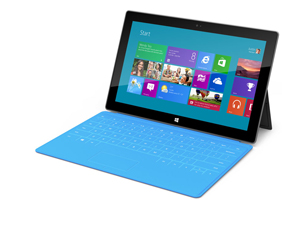 Microsoft has announced that it's entering in the tablet arms race with its own product, a touchscreen tablet called Surface that will debut in two versions this fall.
The company is stretching the term a bit, Surface's cover is actually a 3mm-thick keyboard (that comes in 5 different colors) and the device features a "kickstand" that swings out from the back to prop the tablet up. Lean-back goes to lean-forward.
Other features include a 10.6-inch display, cameras on the front and back, a USB port and a MicroSD card slot to handle more media.
The two versions are differentiated by more than just their capacity. The 32-GB version features the Windows RT operating system, which is Microsoft's mobile version of its Windows OS. The 64-GB device will feature a full version 8 of Windows.
Additionally, the 32-GB Surface has stepped-down USB 2.0 and MicroSD slots. The smaller Surface is also lighter—676 grams versus 903 grams on the 64-GB version.
The Surface, as many of the reports are noting, is a very different tactical move for Microsoft in that it's producing a piece of hardware—something that Bloomberg Businesweek's Ashlee Vance points out is competitive to not only Apple, but other PC makers such as HP, Dell and Acer. It's also a move that, like it or not, veers Microsoft much closer to Apple's hardware/software strategic playbook.
As of yet, no pricing information is available.