Michael Wolff Out at Adweek

Replaced by executive editor Jim Cooper.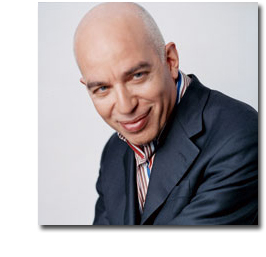 Michael Wolff is officially out of his role as editorial director of Adweek after weeks of reports that he was on the chopping block. He's replaced by executive editor Jim Cooper.
There have been reports of a contentious relationship between Wolff [pictured] and Prometheus Global Media chairman Jim Finkelstein, who took over Adweek, The Hollywood Reporter and Billboard after CEO Richard Beckman was made to give up day-to-day oversight this summer.
Last week, Finkelstein told paidContent that "Michael's name is still on the masthead. He's not being fired," while Wolff was wondering at an industry event if he'd "still have a job an hour from now," according to WWD. 
Prometheus Global Media (previously called e5 Global Media), bought the Adweek Media Group titles, along with The Hollywood Reporter and four other brands from Nielsen Business Media in late 2009.
Beckman, who previously served as CEO of Conde Nast's Fairchild Group (where he picked up the nickname "Mad Dog'), had attempted to "consumerize" the trade titles, hiring former Us Weekly editor Janice Min as editorial director of The Hollywood Reporter and Wolff–founder of Newser and a controversial Vanity Fair columnist (a role he retains)–as editorial director of Adweek (in a letter introducing the revamped Adweek–which merged sister titles Mediaweek and Brandweek–Wolff said, "this is not your father's trade magazine"). Wolff came into the job vowing 'to make some trouble.'
"We're in a relatively enviable position because we have a successful publication already," Wolff told FOLIO: earlier this year about the new Adweek. "All we're doing is going to the marketplace and saying, 'You were OK with a crappy product, now how can you not be even more enthusiastic about an obviously better product?'"
Adweek is down 4.1 percent in ad pages from January to July, according to FOLIO: sister site minonline and IMS/The Auditor.
Meet the Author
---