Michael Esposito

SVP, Head of Publishing, Group FMG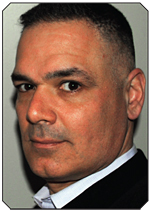 In his new role with Group FMG, Esposito oversees the company's global publishing business, with clients in the United State, Europe and Asia.
After several years in senior executive positions at companies like Hachette and American Media Inc., Dr. Michael Esposito transitioned to the supplier side of the magazine business. In March, Esposito joined Group FMG, an international media agency, as SVP, head of publishing; a role in which he is responsible for FMG's global publishing business in the U.S., Europe and Asia.
"Coming from the buyer's side, and knowing how the inner workings of an organization react to change, gives me the ability to really deploy some of that experience and integrate my skillset with people around me at the industry level," says Esposito. "One of the biggest hurdles I see on the publishing side is based on organization. On many levels, the conventional business on the print side is segmented from emerging opportunities in mobile and on the tablet."
While at American Media Inc. [AMI] as SVP of operations and digital production, Esposito helped reduce production related costs by over 50 percent. He also assisted publishers like Playboy in streamlining production processes and integrating new technologies that "generated significant annual savings," according to Scott Stephen, COO of Playboy Enterprises.
In late November, AMI entered a deal with Group FMG to reduce the publisher's production costs and help AMI "strategically source where it makes sense," Esposito told Folio: at the time. After transitioning to his new role with FMG this winter, Esposito still acts as a consultant to AMI and CEO David Pecker.
"We're looking to help companies realize that to effectively deploy content to new platforms, as well as ramp up in a cost-effective way, they have to reorganize internal content production," he says. "I don't think it's going to come from developing tech, but it will come from utilizing multiple solutions that are out there, to enable control from one central location."
VITAL STATS: Before joining Group FMG, Esposito's efforts at American Media Inc. resulted in a 30 percent gain in productivity. He also helped reduce the publisher's production costs by 50 percent.
Meet the Author
---