Michael A. Clinton Named Chairman of the Board of Directors of MPA

Replaces Jack Griffin at The Association of Magazine Media.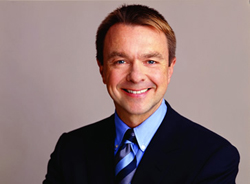 Michael A Clinton, president and marketing/publishing director of Hearst Magazines, will now act as chairman of the board of directors of MPA (The Association of Magazine Media).Clinton replaces Jack Griffin, who stepped down from the chairman role when he parted ways with Time Inc. in February.
Clinton will remain chairman until the MPA's annual meeting, which is scheduled for October 2012. Active in MPA for over ten years, Clinton acted as chairman of the 2002 American Magazine Conference, co-chaired the Magazine Marketing Coalition in 2004 and joined the MPA Board in 2009.
Nina Link, president and CEO for MPA, said, "He's [Clinton] a champion of improved magazine measurement and a tireless advocate for the power of magazine media on print, web, mobile and tablet platforms. Plus, as a skilled photographer and the author of four books, he clearly demonstrates a passion for editorial content that will be an asset in this role."
Meet the Author
---