Meredith's First Quarter Earnings Fall 44 Percent

Ad revenue down 18 percent in fiscal Q1; weak economy to blame.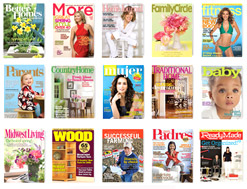 Meredith Corp. today reported $18.6 million in fiscal first quarter 2009 net earnings, down about 44 percent from $33.3 million during the same period last year. Revenue for the quarter fell 15 percent to $215.5 million.
Its publishing division generated an operating profit of $33 million on $300 million in revenue for the quarter. That's compared to a profit of $55 million and $330 million in revenue during the same period last year. Advertising revenue was $148 million, down about 18 percent.
"The weak economy continues to significantly impact the demand for advertising. However, other fundamentals of our business remain strong," president and CEO Stephen M. Lacy said in a statement. Lacy indicated that circulation metrics were "solid" and that non-advertising related businesses, particularly Meredith Integrated Marketing and brand licensing, posted "strong" revenue and profit growth.
As reported earlier, the company's fiscal 2008 net earnings were $134.6
million, down 17 percent from $162.3 million in 2007. Revenue was down
about 2 percent to $1.58 billion.
Meredith also indicated that the company will continue to "execute a performance improvement plan that is focused on gaining market share, growing new revenue streams and practicing aggressive expense control." Whether or not layoffs are associated with the expense control was not immediately clear. A spokesperson did not immediately return a request for comment.
This summer, Meredith cut 60 jobs and opted not to fill 60 open positions. Twenty of the layoffs came from its magazine business.
Meredith's expenses declined approximately 3 percent during the fiscal first quarter 2009 compared to the same period last year. Meredith's total debt was $465 million and its weighted average interest rate was approximately 4.5 percent as of September 30, 2008, the report said.
Meet the Author
---