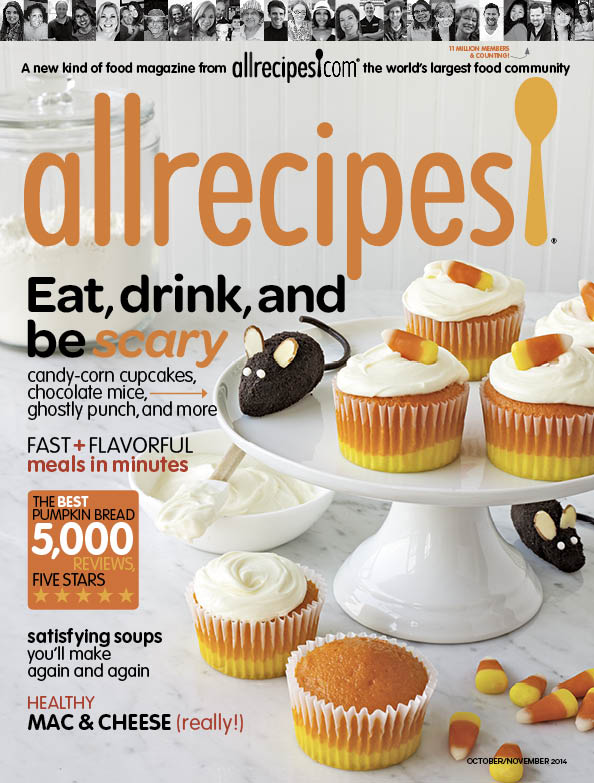 On the eve of Allrecipes' first anniversary as a print magazine, founding publisher Steve Grune announced that the bimonthly's circulation guarantee to advertisers will rise from 650,000 to 900,000, effective with the Oct./Nov. 2014 issue.
It is evidence that complementing digital with print is a winning formula. Meredith Corp. paid Reader's Digest Association $175 million for Allrecipes.com in Jan. 2012, and the site's sizable audience–32 million unique visitors per month–was an inducement for the print launch. "Increasingly, marketers are leveraging the combined reach of Allrecipes magazine and Allrecipes.com to create cross-platform opportunities for their brands, and we expect these programs to further expand moving forward," Grune says.
Epicurean rival and role model is Hearst Magazines' Food Network. Its television platform (via Scripps Networks) expanded to print in 2010, and FN's circulation has since quadrupled from 400,000 to 1.63 million.
Allrecipes has the potential to reach Food Network 's standard with a combined 1 billion-plus annual visits on all platforms (mobile, digital, blog posts, etc.). Added clout is coming from weekday exposure on the Meredith-produced Better TV show.