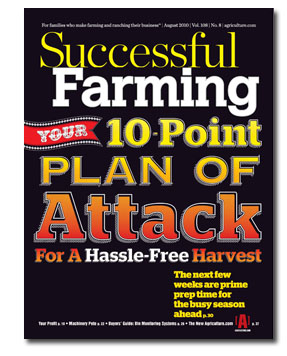 It was only a matter of time before more print magazines followed Entertainment Weekly's footsteps and start incorporating video elements into their print magazines. Next up on the list is Meredith Corp.'s Successful Farming, which partnered with advertiser Bayer CropScience to develop a video insert that appeared in the August issue.
According to publisher Scott Mortimer, Successful Farming and the pesticide company—through its communications agency Rhea+Kaiser—began collaborating on the initiative more than six months ago. The ad, for Bayer's Votivo product, is a four-page insert that includes a two-inch-by-two-inch video screen on page 20 of the magazine. The screen plays an opening message when a reader opens to the page and then four additional videos depending on which buttons the reader pushes.
The video ad insert was distributed to 17,000 of Successful Farming's subscribers. The magazine helped cross reference its sub list with the Bayer CropScience's database in order to target the most qualified potential customers for the Votivo product.
Video-in-print company Americhip developed the technology used in the video insert. See below to watch a video presentation of the ad.
"The insertion costs were similar to other inserts that we run, with the exception of increased postage because of the weight of the piece and that it had to be manually inserted into the magazine," Mortimer tells FOLIO:.
Mortimer says the hand binding took approximately two-and-a-half days to complete and was a "premium" over normal inserts. "We also worked closely with our printer and with the U.S. Postal Service to ensure that it would not be damaged in the mail stream," he says.
Last fall, Time Inc.'s Entertainment Weekly worked with Americhip to develop video-in-print ads from CBS and Pepsi.