Meredith Teams Up With Campbell's For Holiday Pinterest Sweepstakes

Allrecipes.com Pinterest referral traffic up almost 900 percent year-over-year.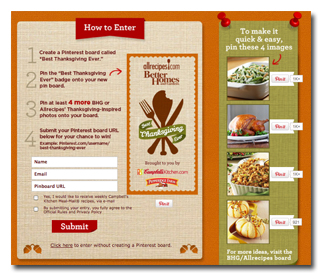 For Meredith brands like Better Homes and Gardens and Allrecipes.com, the holidays provide important opportunities to interact with readers, support partners and boost traffic and engagement metrics. To take advantage of holiday excitement, these brands have teamed up on a reader-driven Pinterest sweepstake that is supported by advertising partner Campbell's Soups.
"Thanksgiving is really the Super Bowl of food—it's our biggest holiday of the year and both brands put a tremendous amount of effort into creating exciting promotions that can delight their readership," says Esmee Williams, vice president of Brand Marketing for Allrecipes.com. "For our brands, it's all about energizing these cooks with confidence to succeed with all of their Thanksgiving goals. This [sweepstakes] provides an ideal and very visual environment where they can share with one another."
The Better Homes and Gardens, Allrecipes.com and Campbell's Soup "Best Thanksgiving Ever" sweepstakes invites Thanksgiving enthusiasts to share their favorite things about the holiday—from the food and decor to guests and traditions.
Readers can win up to $5,000 by creating a Pinterest board called "Best Thanksgiving Ever" and pinning the official badge of the campaign (pictured) and at least four more Better Homes and Gardens or Allrecipes' Thanksgiving-inspired photos to their sweepstakes-branded Pinterest board.
"The conversation extends from our websites to Pinterest and then back to our sites," says Williams. "On both of our websites you can expect to find banner ads, editorial integration into some of the holiday features and links. There are some videos running that have bumpers on the backend to educate folks about the sweepstakes and invite them in to participate. Newsletters are also going out."
Holiday campaigns such as this one are usually about 10 months in the making—as soon as the Christmas season is over, Meredith teams regroup to strategize for the year ahead. Since Meredith acquired Allrecipes.com in March of this year, this campaign has been "the first opportunity to really combine all of our respective talents and resources to create something great," says Williams.
Choosing Campbell's as its partner, says Williams, was an easy choice since the ties between the companies go back several years. One way the brand gets exposure, for example, is through Meredith Pinterest boards in the campaign that feature Campbell's recipes.
"At Campbell's, they're very focused and they've been paying particular attention to digital so this really meshed well with their area of focus and social media is a place where folks are spending a tremendous amount of time," adds Williams.
Pinterest was selected due to its rising popularity among adult-female users, as well as the social platform's popular topic focuses on food, crafts and home decor. Additionally, referral traffic from the social network ranks very high—according to Williams, it is the largest source of referral traffic for Allrecipes.com and currently up 900 percent year-over-year.
"We know this is where our audiences are spending time," says Williams. "Better Homes and Gardens and Allrecipes are the two top lifestyle brands on Pinterest. Pinterest is very visual but people can also take action—we love Instagram because it's very visual but you don't click-through, it's solely about consumption."
The ROI for these three stakeholders, says Williams, will be engagement, awareness and a path to purchase. Meredith is measuring the amount of engagement and referral traffic from Pinterest, as well as its total Pinterest reach with the campaign. When it comes to consumers taking action, Williams says that Allrecipes.com, for example, has features like a grocery shopping list builder that allows consumers to add recipes, which can list ingredients like Campbell's products, that they can take on the go into retail outlets.
"It's that action piece—you can look to mobile devices to take these Pinterest ideas with them in stores and purchase the items they need to successfully pull off this holiday, that's really important," she says. "I think this is just the start of what you can expect to see from these brands working together."
 
Stay updated on the latest FOLIO: news, follow us on Facebook & Twitter!
Meet the Author
---