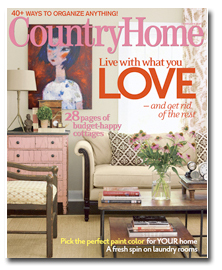 Meredith Corp. announced today that it has reduced its overall workforce by 250 positions and has shuttered Country Home magazine. The March 2009 issue will be its last.
In a statement, Meredith president and CEO Stephen M. Lacy said the "recessionary economy" has impacted the company's publishing and broadcasting revenues, which account for "approximately 60 percent" of overall sales.
Meredith also will relocate its ReadyMade brand and Parents.com operations to its headquarters in Des Moines, Iowa, the company said.
As a result, in part, Meredith will incur a special charge of
approximately $16 million in its fiscal second quarter 2009, the
company said.
In October, Meredith reported $18.6 million in fiscal first quarter 2009 net earnings, down about 44 percent from $33.3 million during the same period last year. Revenue for the quarter fell 15 percent to $215.5 million.
Country Home's ad pages fell 17.4 percent through the first nine months of 2008, according to Publisher's Information Bureau figures. Late last year, Meredith scaled back the magazine's frequency to eight times per year.