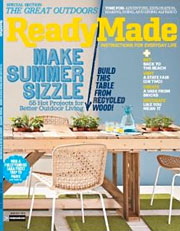 Meredith Corp. is folding DIY magazine ReadyMade and eliminating approximately 75 positions worldwide. The company also said it will incur a $10 million special charge (with about $6 million after-tax) in its fiscal fourth quarter, ending June 30.
"Positioning Meredith for continued growth requires periodic realignment of resources, including how we deploy our workforce," said Meredith Chairman and CEO Steve Lacy in a statement. "These actions will enable us to devote additional resources to key strategic growth initiatives, including digital platform expansion."
Meredith acquired ReadyMade in 2006 and boasted paid and verified circulation of about 335,230. However, ad pages fell 8.5 percent to 17.6 in the first quarter of 2011 (after an 18.4 percent gain in pages in 2010) according to Publishers Information Bureau. In February, ReadyMade publisher Jeff Wellington left for Scholastic Parent & Child and a replacement wasn't named.
Meredith's National Media Group saw advertising revenue fall 11 percent and ad pages drop 13 percent in the third fiscal quarter, while revenue fell 4 percent and pages dropped 8 percent (average net per page grew in the mid-single digits on a percentage basis) in the first nine months of the fiscal year. Circulation revenue fell 7 percent in the first nine months of fiscal 2011.
According to MagazineRadar, Meredith posted the largest drop in ad pages among six major publishers in the first three months of 2011.