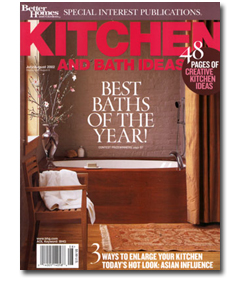 Meredith announced plans Thursday to scale back production of its special interest publications within its Special Interest Media division by 40 percent, citing the recession's impact on home improvement projects. The company will produce 90 SIPs in its fiscal 2011, down from 150 in fiscal 2010.
Special interest publications have long been viewed as a robust source of advertising and newsstand revenue. The mostly newsstand-only magazines typically command premium cover pricing and a long shelf-life.
Meredith will record a special charge of $5.5 million in its fiscal 2010 second quarter. Approximately 45 positions will be affected.
The company published the magazines on home improvement and do-it-yourself projects in remodeling, decorating, food, gardening and outdoor living. The "repositioning," as the company called it, will instead focus on just the home and food categories primarily associated with the Better Homes and Gardens Brand.
According to president and CEO Stephen Lacy, the "economy has impacted the consumer's ability to execute these types of projects and led to a decrease in advertising spending. We continue to believe in the long-term viability of this business and believe this strategy will deliver substantially higher profitability going forward."
A Meredith spokesperson said the eliminated positions were from a mix of disciplines and primarily were based in Meredith's headquarters in Des Moines, Iowa. "It's a business that is subject to expansion and contraction because it's so driven by the consumer marketplace and what's going on there," said the spokesperson, who added that, despite the drop in titles, Meredith is still the largest publisher of SIPs in terms of title volume.
UPDATE: Sources tell FOLIO: that Kitchen & Bath Ideas, Beautiful Baths/Beautiful Kitchens and Beautiful Homes are among the titles that have been closed. Meredith's spokesperson declined to confirm that or to identify any specific titles that were dropped, citing "competitive reasons." He said they were in narrow niche content areas that tend to feel economic impacts harder than broader categories.