Meredith's Sales Guarantee Program Nearing One Year

EVP Dick Porter emphasizes accountability, hints at expansion of the offer.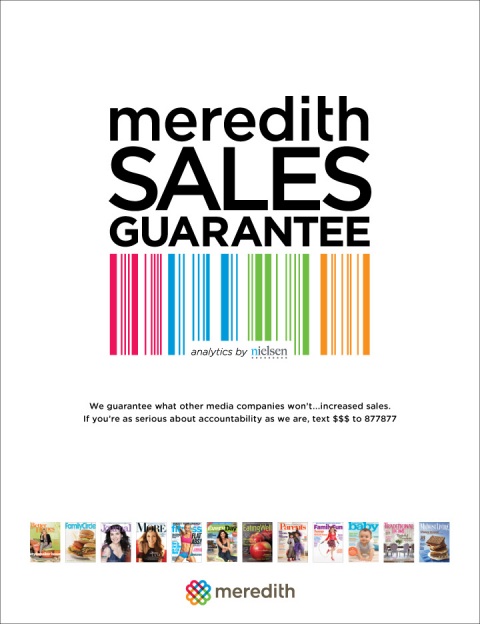 As Meredith's Sales Guarantee Program is coming up on its first year in the market, EVP and president of sales Dick Porter is pleased with the way the initiative has worked to this point. Specific details are unavailable at the moment, but at worst he says, the program is expanding; at best, it's at the head of a new trend in marketing accountability.
"Is the world of marketing going to want less accountability than they have today, exactly the same amount, or more accountability?" Porter asks. "I'm guessing it's going up. So for Meredith, the mantra is 'innovation in accountability.'"
Meredith announced it would offer the program (originally titled "The Meredith Engagement Dividend") in July of 2011. Partnering with Nielsen's Homescan analytics, the publisher guarantees a minimum level of ROI for the advertiser based on the purchasing habits of monitored households. If the mutually agreed-upon standards aren't met, the advertiser gets free space.
Kimberly-Clark was announced as Meredith's first major partner in the enterprise in November of last year, but nine others joined in what Porter termed a "pilot" year. The initial experiment was limited to 10, but Meredith will widen the pool going forward.
Porter would not comment on the status of the existing deals before the initial set of year-long agreements had expired, but did say that several of the companies have expressed interest in continuing the program.
"Those participants are already ready to double-down with us and do more," he says. "They're happy about the guarantee, they're happy about the level of accountability that we've offered."
"Accountability is not going away. This level of sales accountability for print is as good as it gets."
As Porter says, the accountability only applies to Meredith's print products though. Digital elements are in the works, but their inclusion in any kind of sales guarantee is not imminent. Identifying the appropriate metrics to track ROI in digital, particularly for non-sales campaigns like branding, has proven to be a hurdle.
Time Inc. has attempted to account for ROI in both print and digital advertising with PinPoint analytics however. While that program, started in October of 2011, similarly tracks household purchasing habits using Nielsen technology, no guarantees are offered for substandard returns.
Meredith's January acquisition of Allrecipies.com may change the landscape for a digital sales guarantee program though as the purchase nearly doubled the company's digital audience for its Women's Network.
"We wanted to make sure that it was at a level that was manageable for all of us," Porter says. "Now I think we have enough evidence that [shows] we know how to make this work, it is working, and apply this into digital."
To stay updated on the latest FOLIO: news, become a Facebook fan and follow us on Twitter!
Meet the Author
---