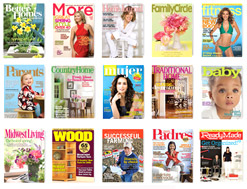 Women's publisher Meredith Corp. Thursday reported net earnings for its 12-month fiscal 2010 of $103.96 million, up from a loss of $107.08 million during its fiscal 2009 calendar year. Revenues dipped slightly to $1.38 billion from $1.4 billion.
According to chairman and CEO Stephen M. Lacy, the company's fiscal 2010 (ended June 30) "marked a return to earnings growth as we strengthened our business across the board.  We increased advertising market share in both magazine and television, grew the size of our consumer audiences, and generated higher sales of our licensed products at retail. Additionally, we made important investments in new media platforms including mobile and e-tablets."
In terms of magazine industry advertising market share, Meredith says its share increased to 12.3 percent—the highest mark it has reached in company history (it was at 9.5 percent two years ago). Meredith's National Media Group, which publishes its magazines, reported a full-year operating profit of $167 million, an increase of 11 percent over 2009. Revenues dipped slightly to $1.11 billion, including $526 million in advertising revenue.
In its fiscal fourth quarter, the group's operating profit remained flat at $46 million. Overall revenue was $288 million and advertising revenue totaled $135 million—both flat over last year's period.
Meanwhile, Meredith's Interactive Media division saw its advertising revenues jump 17 percent for the full-year term, the company says.
"The combination of enhanced sales and marketing strategies, business re-engineering and careful control of expenses all contributed to National Media Group 11 percent operating profit growth," says Lacy. "We also strengthened our connection to the consumer, delivered market share gains and made investments in new digital media platforms."
Meredith says operating costs (excluding special items) declined by 3 percent during the year and it reduced its debt by 20 percent to $300 million. It projects overall company advertising revenues to grow 6 to 7 percent during the fiscal 2011 first quarter and ad revenues for the National Media Group to "be flat to down slightly on higher nets per page," compared to the 2010-year period.