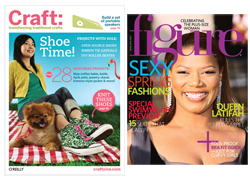 The number of magazines folding in 2009 continues to mount. The latest: Figure—a fashion magazine targeting plus-size women—and Craft—a do-it-yourself crafting title—have been shuttered, their publishers said today.
"Despite much effort, analysis and momentum in the past couple of years, the impact of today's economic climate makes it impossible for us to sustain the attention required for long-term growth and viability of the magazine," Figure magazine owner Charming Shoppes, a specialty apparel retailer, wrote in a letter to advertisers today. The March/April issue will be its last.
Launched in 2002, Figure was published by Meredith Corp.'s integrated marketing division. Four positions at Meredith were eliminated as a result of the magazine's closing, a spokesperson said. According to its 2009 media kit, the magazine carried a rate base of 700,000.
'The Future is Online'
Sebastopol, California-based O'Reilly Media said it will no longer publish the print edition Craft, a 50,000-circulation quarterly magazine it launched in October 2006.
"We've come to realize that there were more and more challenges in publishing Craft as a print magazine, especially with the costs of print and distribution rising, and diminishing interest among advertisers in print," the magazine wrote in a post on the magazine's Web site. "So we've decided that Volume 10, our Celebrate Like Crazy issue, will be our last print issue and that the future of Craft is online."
Three employees—one from edit, one from marketing and one from design—were laid off. The remaining staffers will remain with the Web site.
"It's tough for an independent publisher to produce two D.I.Y titles," associate publisher Dan Woods told FOLIO:. O'Reilly also publishes 100,000-plus circulation tech enthusiast magazine Make.
"We're really shifting our editorial focus to where our audience is," Woods continued. "We're getting one million visitors a month at Craftzine.com. We know people will be disappointed by this but we feel now is the time to make the move."