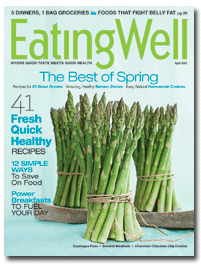 Meredith's EatingWell magazine will raise its rate base from 500,000 to 600,000, starting with its September/October issue, marking the title's second rate base boost this year.
At 600,000, the newly expanded distribution will represent a 71 percent increase from this time last year. In January, Meredith upped the number from 350,000 to 500,000.
Publisher Tony Catalano says the increased rate base is made possible by a combination of being "in the right place at the right time, doing all or most of the right things," along with the mainstream emergence of the healthy eating market. The magazine's most recent issue, January/February, sold close to 80,000 copies at newsstand, he says—a 50 percent jump from last year.
Being in the right place includes having access to Meredith's direct mail and database resources—the company purchased the title from EatingWell Media Group last June, along with the brand's content licensing and custom marketing group, its Health-in-a-Hurry mobile app and a series of food and nutrition-related books.
In the last year, EatingWell's web traffic has doubled to nearly 4 million unique visitors per month, and the brand has expanded its content licensing deals with sites including Yahoo! and The Huffington Post.
At the time of acquisition, FOLIO: reported that more than 60 percent of the brand's overall revenue came from a combination of digital sources, licensing and custom content. With the increased rate base, Catalano says this number will hold closer to a 50/50 split with print.
Generally, food remains a key and expanding category for Meredith: Last October, the company purchased Every Day with Rachael Ray from Reader's Digest Association; this January, the company bought Allrecipes.com, also from RDA.