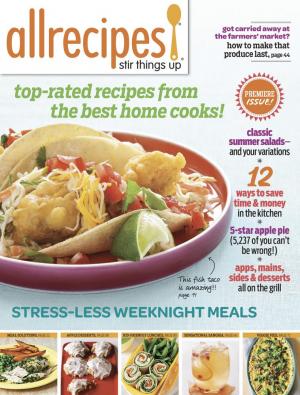 The Meredith Corporation is set to launch a print version of its popular Allrecipies.com brand. The magazine is being rolled out as a bi-monthly publication and is slated to unveil a test run in August and will officially debut in mid-November with its December issue. 
Meredith is looking to buck the trend of print magazines moving into digital-only publishing by going the opposite direction. "We believe in multi-platform publishing and delivery," says Tom Witschi, executive vice president of Meredith's Women's Lifestyle Group. "We are very good at print and have had a lot of success with it, and it was clear from our testing that this was going to be very well received," he adds.
In addition to print, Allrecipes is also entering the television space with a branded segment tied into Meredith's The Better Show, which airs on the Hallmark Channel.
Witschi implies that a major opportunity for Meredith here is that the trend of packaging media sales into silos is slowly shifting towards an all-in cross-platform approach, which is good for strong brands that may want to jump onto new platforms.
"Our feeling is that it will be brand buying across platforms. I can't predict exactly when it's going to happen, but on the selling side you're seeing more sellers capable of selling multiplatform offerings, and on the buying side you're increasingly seeing buyers and marketers interested in strong brands and the many different platforms they offer," Witschi says.
Allrecipes reports that its site receives an average of 30 million monthly unique visitors. Not only that, but it has more than 7 million registered users, and more than 5 million email newsletter subscribers. The magazine, on the other hand, will be rolled out with a guaranteed rate base of 500,000, however Witschi expects that to be a temporary figure. "We will be aggressively increasing that over time, our intention is to grow very quickly," he says.