Meredith Reports Flat Revenues, Expects 'Lower Ad Demand' for Rest of '08

Economy slows publisher's fiscal Q3 revenues.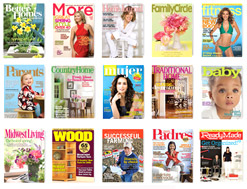 Meredith announced its fiscal 2008 third quarter earnings this morning, reporting $401 million in revenue, down 2 percent over the same period in 2007.
While advertising revenues in the first half of fiscal 2008 grew nearly 10 percent over the same period last year, Meredith experienced weakness in its home, pharmaceuticals and direct response ad categories, but saw growth in its food category, the publisher said. The company expects the downturned economy will cause lower advertising demand for the remainder of fiscal 2008.
"I think it is important to note that our fundamentals are strong with great brands, outstanding customer connections, expanding online and video platforms, sound growth strategies, top-notch employees and management, and a solid track record of increasing shareholder value over time," Meredith president and CEO Stephen Lacy said in a statement. "Our strategy is to capitalize on these strengths, carefully manage expenses, and work aggressively to increase market share."
In its publishing unit, Meredith's operating profit touched $65 million and revenues were $323 million during the quarter—flat compared to the same quarter last year. Publishing advertising revenue was $155 million, down about 4 percent.
Total revenues in the first nine months of fiscal 2008 were $1.2 billion. In 2007, Meredith's annual revenue was $1.6 billion.
As of March 31, Meredith's debt was $445 million, down from $475 million as of June 30, 2007.
Meet the Author
---