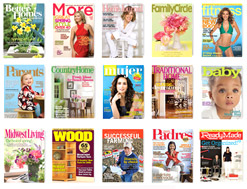 Better Homes and Gardens publisher Meredith Corp. today reported $25.7 million in net earnings through its fiscal first quarter—an increase of 40 percent over $18.34 million during the same period last year. Company revenues totaled $344.4 million, up slightly from $332.4 million last year.
Meredith attributes the earnings boost to significant growth in political TV advertising revenues at its Local Media Group ($12 million during the fiscal first quarter) as well as non-political TV ad revenues (up 8 percent to $58 million). In total, television spot advertising revenue grew 27 percent during the period.
Meanwhile, Meredith's magazine publishing unit, the National Media Group, reported $268.3 million in revenue during the quarter, down from $271.6 million during the same three-month period last year. Advertising revenue ($136.2 million) and circulation revenue ($66.9 million) both declined slightly.
However, Meredith chairman and CEO Stephen M. Lacy says the National Media Group increased magazine advertising rates per page, grew digital ad revenues and posted "strong revenue growth in businesses not dependent on advertising." Online advertising revenues jumped 21 percent, Meredith says, led by growth in pharmaceutical, consumer packaged goods and retail ad categories.
"Meredith was cycling against its strongest quarter of industry outperformance (nearly 30 percentage points) in the prior-year period, according to Publishers Information Bureau data," the company says.
Overall, Meredith says it reduced company expenses by an additional 1 percent on top of an 8 percent decline during last year's fiscal first quarter. The company's debt stands at $285 million and it carries a debt-to-EBITDA ratio was 1.1 to 1 as of September 30.