As mobile devices move to the center of a consumer's shopping activities, publishers are exploring ways to activate purchases at retail. One area that shows promise is grocery shopping, where consumers are using their mobile devices to look up recipes to plan their shopping. And Meredith and Reader's Digest both announced deals today that aim to put their brands at the center of a shopper's food-buying activity.
Meredith acquired Grocery Server, a digital marketing platform that serves up branded offers at local retailers based on a users's location. Terms of the deal were not released.
"The shopper marketing space is moving its way to digital very quickly and no one has cracked the code yet on building a real vision for brands and consumers as we move from print circulars to digital," says Marc Rothschild, SVP of Meredith Digital.
The acquisition will be primarily positioned against Meredith's Allrecipes brand. An obvious use case is an Allrecipes.com visitor using the site to plan the week's dinners. "In realtime, we're showing them, based on the ingredients they have on the recipe list, what products are on sale and where," says Rothschild. "We're pulling up the retailer that we've partnered with and we're telling them which ingredients are on sale right now."
From there, based on the kind of recipe it is, the platform can also suggest other non-recipe products. Making a messy meal? How about a particular brand of paper towel that's on sale?
On the sales side, retailers pay Meredith to be listed as the store selling the ingredients and brands also pay to be highlighted in the recipes.
But at the core of this dynamic are publishers like Meredith and Reader's Digest that are positioning themselves to be the ones that literally drive a consumer to retail to make a purchase. And on the mobile platform, it's measurable.
"We're working with Nielsen to prove that through implementations like this, we're driving people to the store more frequently and once they're there, we're demonstrating that they're increasing their basket size. And they're not just buying food, but other things they need. That's important from the retailer perspective," says Rothschild.
In a very similar strategy, but not via an acquisition, Reader's Digest has partnered with mobile ad technology platform Crisp Media to activate the Taste of Home audience at retail.
"Recipes continue to be one of the top drivers of impulse purchases," says Reader's Digest CRO Rich Sutton. "You take this content and combine it with technology that puts that content in the shopper's pocket. It takes advantage of everything mobile has to offer. It eliminates the debate about whether mobile is a branding medium. In this instance, it sure as heck is."
Through the Crisp partnership, Taste of Home recipes can feature retailers in adhesion ad units, based on geo-targeting, that are selling specific ingredients needed for a recipe.
"Multiple recipes appear in a gallery view and a user can cycle through and pick one," explains Crisp CRO Tom Jones. "An ad unit can feature a map of the closest Kroger market and the ad has functionality that allows the user to save the recipe or add it to their phone as a branded PDF icon that launches the recipe as a shopping list when they're in the store."
The partnership splits revenues 50/50, says Sutton, with the Reader's Digest team selling to the brands and the Crisp team selling the retailers.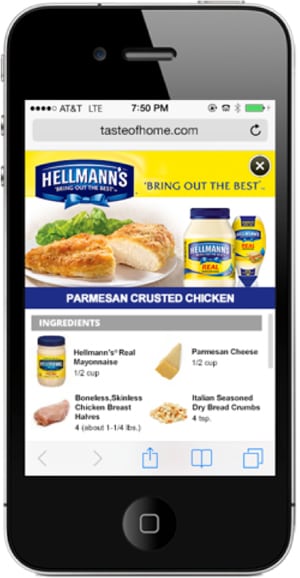 Ad inventory is also split down the middle, adds Jones. "Half of the inventory will run endemically on the Taste of Home mobile site. The other half will run on our private market on our side of the house."
Crisp can measure the number of ad impressions, how many people engaged with the ad, how many recipes cycled through and how many people saved recipes to their phones.
"The opportunity and the challenge is to sell more products in the baskets," says Sutton. "Recipes tend to be a good device to take more products in a shopping experience."
Adds Meredith's Rothschild: "The shopper marketing piece of this is to be able to—after we've demonstrated awareness—move product off of shelves. There's nothing more important in this day and age."