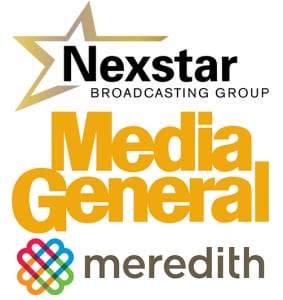 The nearly-five-month saga surrounding Meredith Corp.'s merger with Media General officially drew to a close Wednesday morning, with both sides announcing an agreement to terminate the deal.
Instead, Media General will be acquired for $4.6 billion by telecommunications company Nexstar Broadcasting Group, whose unsolicited proposal to buy Media General in September interrupted the Meredith deal and sparked a back-and-forth among the three companies that endured through the holiday season and into 2016.
Meredith will receive $60 million and the opportunity to purchase certain broadcast and digital assets owned by Media General in exchange for agreeing to terminate the merger and allow the subsequent Nexstar acquisition to proceed.
"While we still believe in the strategic and financial benefits a merger with Media General would have created, we are pleased with the financial benefits of the termination agreement and the shareholder value created," said Meredith chairman and CEO Stephen M. Lacy in a prepared statement.
Meredith originally announced a binding agreement to be purchased by Media General for $2.4 billion in September, a move that came as a bit of a surprise given Meredith's string of acquisitions up to that point. That deal was cast into a state of uncertainty when, just weeks later, Nexstar jumped in with its own unsolicited offer to buy Media General.
Over the following months, both Meredith and Nexstar attempted to woo Media General by touting the superior benefits of their respective merger agreements. Meredith granted Media General the ability to conduct due diligence and share non-public information with Nexstar, but remained confident that their own merger would proceed unhindered.
Earlier this month, Nexstar announced that it had completed negotiations to acquire Media General, but—despite "several proposals" from Media General—Meredith stood its ground, indicating that any attempt for Media General to back out of the deal would have to result from a shareholder vote. That appears to have changed with today's announcement.
Meanwhile, the newly formed company—called Nexstar Media Group—will be a telecommunications giant, brushing up against FCC limits by controlling 171 stations in 100 markets and projecting $2.3 billion in annual revenue, according to Nexstar.