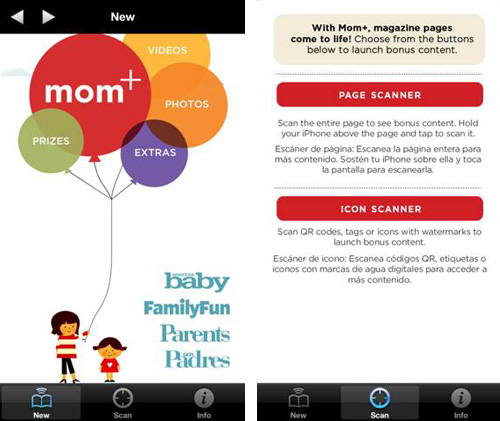 Augmented reality plays are usually rolled out one title at a time, but Meredith has launched the enhanced execution across its entire Parents Network, linking them with a single app.
The Meredith Mom+ app has a universal scanner that interacts with bonus content, e-commerce offers and advertisements in the June and July issues of Parents, American Baby, FamilyFun and Ser Padres.
"Meredith Parents Network has been the leader in embracing innovation to deepen the experience for millennial moms who consume our content on many platforms," says Carey Witmer, EVP and president of Meredith Parents Network, in a statement.
Meredith has targeted young moms over the last few years with investments in multiplatform publishing. The group offers tablet editions of Parents and Family Fun, has had more than 2.5 million app downloads and overhauled Parents.com last summer with a responsive redesign.
Meredith's internal research at the time of the redesign showed that 71 percent of millennial moms and 81 percent of trailing millennials (18-25) owned a smartphone, according to Dana Points, content director of the Parents Network.
"We know that millennial moms expect a multi-screen experience," she says.
See Also: M-Commerce and the Shoppable Magazine
The app is free and available for both Apple and Android devices.
Meredith's AR issues follow last month's acquisitions of Bonnier's Parenting and Babytalk. Those titles were merged with Parents and American Baby, respectively.
—
See Tom Harty, president of Meredith's National Media Group, talk about the future of publishing in this Q&A at MediaNext. 
— 
To stay updated on the latest FOLIO: news, become a Facebook fan and follow us on Twitter!