For a great majority of magazine brands, the millennial demographic is, without a doubt, a hot commodity. Meredith, the publisher that claims to reach nearly three-quarters of millennial women in the U.S. across its various titles, is ramping up its efforts to capture the remainder.
Meredith Corp. and YouTube-famous parenting brand What's Up Moms announced this morning an exclusive partnership under which the two parties will collaborate to create and distribute lifestyle content for Meredith's Parents Network—which includes titles Parents, Family Fun, and Fit Pregnancy and Baby, among others—across both print and digital channels.

Under the terms of the agreement, What's Up Moms' Elle Walker, Meg Resnikoff, and Brooke Mahan will contribute a bi-monthly advice column to the print edition of Parents, starting with the May issue, as well as help produce a new What's Up Moms digital video series for Parents.com.
"Millennial moms are our fastest growing audience segment and this program helps ensure that we're producing video content that both entertains and informs them," said Tracy Odell, general manger of Meredith's Parents Network, in a statement.
A major focus for all of Meredith's parent-focused brands is identifying fun and engaging ways to connect with their millennial audiences, according to Parents Network president, Carey Witmer. Kim Martin, Meredith's chief strategy officer, says consumers can expect more partnerships like this from Meredith in the coming months.
But Meredith wasn't done there.
Just a half hour after revealing the Whats Up Moms agreement, the publisher announced yet another youth-oriented partnership, this time with GFF: Gluten-Free Forever magazine.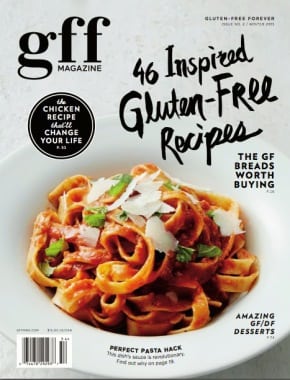 Meredith Corp. will publish the Spring and Summer 2016 issues of GFF, leading advertising sales and distribution for the independent brand that launched on Kickstarter in October, 2014. Both issues will see newsstand distribution of 250,000 copies each, a dramatic jump from the magazine's 12,000-copy circulation up to this point.
Editor-in-chief Erika Lenkert and her San Francisco-based staff will continue to produce all of GFF's content, according to Meredith, and the print magazine will continue to be published in a high-paper-stock, bookazine format.
For now, the agreement encompasses only the next two issues, but Meredith Corp. and Lenkert will come together after the Summer 2016 issue drops to evaluate and determine whether the partnership will continue, Meredith Special Interest Media's editorial content director, Doug Kouma, tells Folio:.
"With the increasing consumer demand for gluten-free recipes and products, GFF: Gluten Free Forever fits into our portfolio of wellness-minded publications, resonating with Meredith readers who are looking to adapt to a more health-conscious lifestyle," adds Kouma in a prepared statement.
The gluten-free movement has been overwhelmingly driven by young people, with 37 percent of Generation Z consumers and 31 percent of millennials willing to pay a premium for gluten-free foods, compared to just 22 percent of Baby Boomers and 12 percent of the "Silent Generation"—those currently between the ages of about 75 and 90—according to Nielsen.
Since being spurned on a potential merger with Media General by telecommunications giant Nexstar Broadcasting Group in late January, Meredith has been looking to capitalize on what it considers to be an unparalleled young female audience. The publisher shuttered the older- and more affluent-skewed title More in February, then signed a deal with Unconventional Studios to produce a syndicated TV series featuring its brands—a move about which the publisher was abundantly clear in its desire to further target millennial women.
Terms of both agreements were not disclosed.