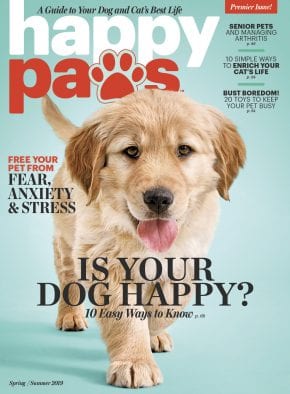 After enjoying three significant increases to its rate base since its Fall 2016 debut, the Joanna and Chip Gaines-branded Magnolia Journal has essentially completed the transition from hot new launch to established lifestyle magazine, with Meredith Corp. now producing some 1.2 million copies of each quarterly issue for newsstands and subscribers.
While Hungry Girl magazine—the company's follow-up employing a similar celebrity-branded formula with author and "foodologist" Lisa Lillien—hasn't yet lit the world on fire to the same degree, it is back with a third issue for Spring 2019, and indications are that Meredith remains bullish on the concept overall.
Enter Happy Paws, the company's latest print launch aimed at dog and cat owners and created in partnership with Fear Free LLC, the veterinary education platform founded by "America's veterinarian," Dr. Marty Becker, one of a number of "veterinary and pet professionals" who will produce content for each issue.
Meredith will print 350,000 copies of the premier issue at a cover price of $9.99, compared to 225,000 at $9.99 for the first issue of Hungry Girl and 400,000 at $7.99 for the debut of Magnolia Journal. A spokeswoman says a second issue of Happy Paws is slated to drop in mid-October, after which a regular frequency will be determined based on the responses from consumers and advertisers.
Citing the growing market for pet products—a $72 billion industry in the U.S. alone in 2018—as well as "extremely popular" pet coverage in Family Circle, People and Real Simple, among others ("We've very much become a resource for pet owners," People.com editor Zoe Ruderman told Folio: a year ago), Meredith says it expects Happy Paws to both resonate with readers and fill a void in the market.
"What sets this magazine apart from all others out there is its focus on inspiring pet owners to provide their pets with their very best lives," says VP and group publisher Scott Mortimer, who also oversees Hungry Girl and the Magnolia Journal. "We take pride that 100 percent of our content is reviewed by board-certified veterinary behaviorists."
The debut issue of Happy Paws hits newsstands April 9.