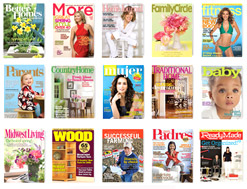 Meredith Corporation has become the latest magazine publisher to reduce its workforce, today cutting 60 jobs and opting not to fill 60 open positions. Twenty of the layoffs come from its magazine business, a Meredith spokesperson tells FOLIO:.
The layoffs are "very selective," according to the spokesperson, and include staffers in editorial, sales, production, digital imaging and other areas.
About a third of the eliminated positions are from Meredith's book division while the other third are from its broadcasting division. The 60 open positions being eliminated are company-wide, the spokesperson says.
Meredith attributes the cuts to soft retail sales, noting also that fiscal fourth quarter 2008 advertising revenues are down about 15 percent from the same quarter in 2007.
The layoffs were announced as part of a release about the publisher's acquisition of Big Communications, a Ferndale, Michigan-based pharmaceutical and biotech marketing firm. Big Communications will operate as a division of Meredith Integrated Marketing, the company's custom marketing unit.
According to the spokesperson, the acquisition helps Meredith increase non-advertising sources of revenue and opens a new area for the company in the b-to-b space. Terms of the deal were not disclosed.
Earlier this week, Reed Business Information eliminated 41 positions company-wide as part of a restructuring effort.