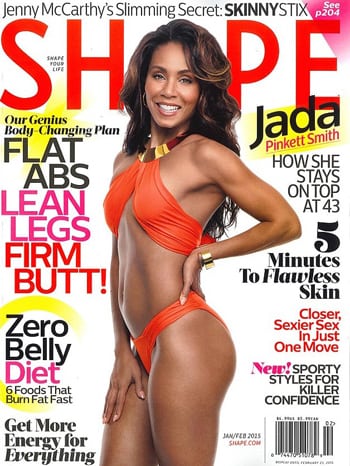 Meredith announced today that it's buying Shape magazine from American Media Inc.
The sale price, revealed during Meredith's earnings call today, is $60 million up front, with a profit sharing arrangement that will be paid out in Meredith's fiscal 2018, estimated to be 3.5 times first-year cash flow.
Also included in the deal are Shape's digital assets, as well as the digital assets for Natural Health and Fit Pregnancy.
Following the deal, Meredith plans to fold Fitness into Shape, with the May issue the first under the new ownership. The Fitness and Shape websites will continue to operate separately, however.
Tim O'Connor will become publisher for the new brand. Eric Schwarzkopf is associate publisher and Elizabeth Goodman Artis, the current editor-in-chief of Shape, will continue in her role. Fitness editor-in-chief Betty Wong will shift to Meredith Digital, where she'll become vice president, brand development for Fitness and Shape.
Readers of Fitness and Shape will begin receiving the combined version, which will have a rate base of 2.5 million—60 percent higher than Shape's current 1.6 million.
During the earnings call, Meredith National Media Group president Tom Harty described the combo as a "category killer" thanks to its huge rate base. Rodale's Women's Health, for example, has a 1.5 million rate base.
President of Meredith's Women's Lifestyle Group Tom Witschi will oversee the new brands, with the digital assets related to the deal reporting to Jon Werther, president of Meredith Digital.
Meanwhile, David Zinczenko's firm Galvanized will continue to manage the production of Shape during the transition. Zinczenko had already been repositioning Men's Fitness and Muscle & Fitness for AMI.
See also: Meredith Rises, AMI Falls With Acquisition of Shape
The deal puts Meredith on a roll as it cherry picks brands to strengthen its women's market scale.
The company was close to a deal with Time Inc. and rumors of an acquisition there still persist. It's got a 10-year licensing deal to the rights of MSLO's Martha Stewart Living and Martha Stewart Weddings and it launched a print version of Allrecipes.com—which just bumped its rate base to 1.1 million. It's been on a spending spree for the last three years, targets include Eating Well, Family Fun, Every Day with Rachael Ray, Parenting and Baby Talk.
Even so, Meredith's financials released today for its National Media Group are modest, with the exception of better cost control. Group operating profits for fiscal first half were flat to slightly down to $55 million when factoring special charges. Revenues were down five percent to $489 million compared with the same period last year. Group operating expenses dropped four percent in the second quarter.
Circ revenues in the second quarter dipped to $59 million from $68 million, due primarily to last year's closing of Ladies' Home Journal.