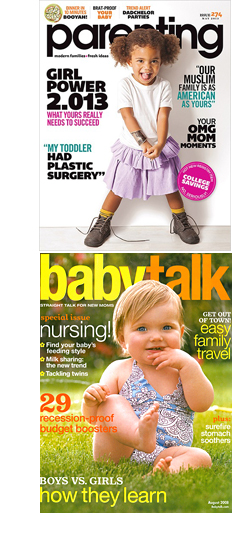 Meredith today announced it acquired the Parenting and Babytalk brands from Bonnier. The two magazines will effectively be absorbed into Meredith's existing Parents and American Baby brands.
Following the deal, subscribers of Parenting and Babytalk will begin getting Parents and American Baby instead starting with the September issues.
In the meantime, Meredith will port over popular editorial features and columns from the former Bonnier titles into Parents and American Baby.
But starting this fall, Parenting and Babytalk will essentially cease to exist in print. Parenting.com, however, will continue to operate as part of the Parents network of sites.
A sale price wasn't released, but Meredith says the acquisitions will not have a material effect on performance.
According to PIB numbers, Babytalk was down about 37 percent in ad pages in the first quarter this year compared to the same period in 2012. The 2.2 million circ Parenting was down 29 percent in ad pages in that same period.
The sale follows a succession of events out of Bonnier since Dave Freygang took over as CEO after Terry Snow's departure in January.
The company sold its skiing titles to Active Interest Media at the end of April and shut down its Caribbean Travel + Life brand last November. But none of this points to anything as dramatic as a wholesale selloff by Bonnier, says Freygang in a pre-emptive statement following the deal announcement.
"I want to make this point perfectly clear: This divestiture following last week's sale of the Mountain Group should not be taken as the dismantling of the company," Freygang says. "Our parent company, Bonnier AB in Sweden, reminds us that it plans for generations, not years — we adhere to that theory. This choice was a difficult but necessary one to ensure the company is well positioned for the future."
According to a spokesperson, Bonnier lost money last year and the snow sports and parenting brand deals are designed to put the company back on track to profitability. In the case of the parenting titles, the deal also signals the difficulty magazines have if they're not number-one in their markets.
"We were not number-one in parenting," says the spokesperson, "Parents is—by a wide margin. At this point, we don't believe that in the foreseeable future we could make these titles number-one."
As it stands, Bonnier now has titles in outdoor, travel and epicurean markets and, says the spokesperson, the company will continue to review opportunities for further rightsizing as well as acquisitions. "Bonnier is continuing to look at properties that fit into those categories," says the spokesperson.