Meredith Breaks Into Celebrity Content With Video Partnership

CelebTV to deliver daily videos to company's DivineCaroline site.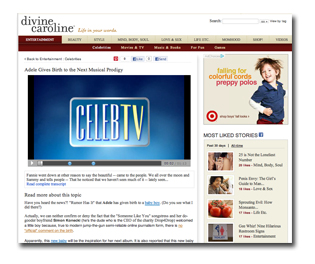 With reports showing that more than 100 million Americans watch online video content on an average day, it's no surprise that Meredith is expanding its offerings in this space. The company has formed a strategic partnership with the digital entertainment network CelebTV to feature daily, original HD videos on Meredith's Divine Caroline website beginning this week.
"This represents a continued growth for us in content delivery," says J.R. McCabe, Meredith's vice president and chief video officer. "We look at ourselves as a media company for our consumer, so our goal is to deliver content that will matter to her and her life. This is us expanding our offerings so when she comes to consume content with us she can get more than she did before—that's the core essence of this."
Until now, Meredith did not produce content in what McCabe calls the "celebrity space." Additionally, according to McCabe, Meredith's research shows that its consumers have been searching sites like DivineCaroline.com for video content, making the new partnership fulfill two needs. 
"We also know that as you look at the media industry at large that the consumption trends are clear that site, sound and motion are an integral part of what people are consuming," he says. "We wanted to add those elements to our content—Meredith has made a great commitment to content creation and distribution of video."
Under the agreement—the terms of which the company declined to disclose—CelebTV will provide timely videos on everything Hollywood, including breaking news, celebrity style, body and diet, couples, babies, movies and television news.
DivineCaroline.com is a membership-based entertainment network that "combines real voices with guided editorial and the dynamism of an online community," its website says. The site is part of the Meredith Women's Network and receives roughly 1.7 million monthly unique visitors.
"One of the fastest growing areas in the industry is ad sales in the digital market," adds McCabe. "In addition to our core, which we don't want to stray from, this is one of the places we see as a growth area. This supports our strategy of continually delivering content but also delivering an opportunity for advertisers to reach our consumer. It's definitely part of our long term strategy for our sites." 
Stay updated on the latest FOLIO: news, follow us on Facebook & Twitter!
Meet the Author
---