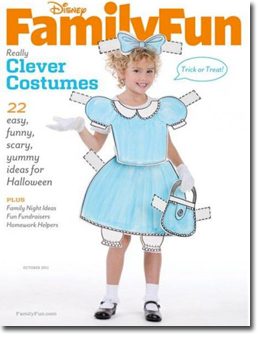 Meredith Corporation is acquiring the assets of Disney Publishing Worldwide's FamilyFun. Beginning in March 2012, FamilyFun and its associated special interest publications, as well as Toyhopper and other magazine apps, will be published by Meredith.
Terms were not released, but the deal, which is expected to close in the next 30 days, will not have a material effect on 2012 performance, says Meredith.
The deal is a strategic move to expand Meredith's advertising opportunities in both the food and parenting categories. According to a press statement, the acquisition "increases Meredith's share of parenthood category magazine advertising revenues to nearly 60 percent, according to Publishers Information Bureau". Other family-oriented titles under the Meredith umbrella include American Baby and Family Circle. FamilyFun will also find itself in the company of food-focused brands like recently acquired Every Day with Rachael Ray and Eating Well.
The acquisition brings an "attractive demographic of young female consumers to Meredith's database" as well. The average FF reader is female and 35-years-old; 60 percent of readers are college-educated. Meredith's audience demographic edges closer to women in their mid-40's.
"I'm not looking at it from a category standpoint, but more from a life stage standpoint. It ties back to the age of the consumer, what this woman is doing in this stage of the game. She's setting up her household, she's buying a new car and developing those brand loyalties she'll have all her life," Carey Witmer, president of the Parents Network with Meredith, tells FOLIO:. "But beyond the advertising, it's a great opportunity for Meredith to get at her in the beginning and then move her into our other brands like Better Homes and Gardens."
Witmer identifies the hands-on, activity-based FamilyFun content as a large draw, as "it not only has a place in print, but is perfect fodder for digitization, and video in particular."
When considering plans for FF, Witmer says, "I will say at this point is that the strategy is to be smart and thoughtful about what we do with this brand. We're going to take the next 60 days and better understand what the brand is from the people that have worked there, and then we'll craft the strategy with their insight and help." The magazine's current staff will remain intact.
The departure of the 20-year-old title from Disney's magazine portfolio marks a consolidation and refocusing of strategy for the publisher. Russell Hampton, president of Disney Publishing Worldwide, says, "Moving forward, Disney Publishing Worldwide will focus on our core children's magazine and book businesses, our rapidly growing initiatives and our Disney English language learning program."
Disney's mag portfolio now includes Topolino and Donald Duck, as well as new additions Phineas and Ferb and Thor. The publisher will retain all existing FF content for its own digital use.