Men's Journal Ad Reps Swim with Sharks

Literally.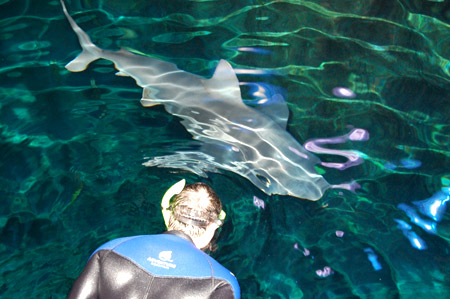 Here's to taking customer satisfaction to the extreme.
Each year, the Men's Journal advertising staff participates in what it calls the "Dare Your Rep" campaign, an initiative to help engage their clients and to promote the magazine's May "Adventure" issue. So what awaited the magazine's eager sales staff this year?
Firewalking? No. Winter surfing off Montauk? Nah. Taking more than 40 percent of clients' votes was swimming with sharks. Of course.
So, last week, 15 advertising reps donned wetsuits, hopped into a tank at the Adventure Aquarium in Camden, New Jersey, and got up-close-and personal with several varieties of sharks. Even publisher Will Schenck got in the tank.
Swimming with sharks is apparently just another notch on the belt for the Men's Journal ad staff. Last year they ate from a menu of tasty delectables such as honey-glazed spiced tarantulas, herbed cream cheese with glazed scorpion, filo dough pastry cups with prickly pear cactus jelly and roasted ants.
Anything for a sale.
Meet the Author
---