Men's Health Mixes Business with Adventure

VP/Publisher Chris Peel details how content drives new business ideas.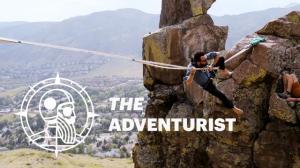 Men's Health has been developing creative content packages for sponsors for several years. One that immediately comes to mind is its Ultimate Guy Search. That program is now in its fourth year, and continues to be a tentpole franchise for the magazine. But that's not all the brand is up to lately. Cobranded content opportunities is a growing business for the brand, and this week we caught up with VP/Publisher Chris Peel (hours before Hearst officially announced the acquisition of parent company Rodale), to hear more about this strategy, and more about its latest launch—The Adventurist.
Folio: You've had a lot going on the last couple weeks, with the fourth Ultimate Guy winner named, and the launch of the Adventurist. Tell us a bit about each.
Chris Peel: The Ultimate Guy launched in April this year with a call for nominations. Michael Dubree stood out right away. His back story is completely insane. His parents—his mom and step dad—were dealing drugs out of his house when he was eight years old. He considered suicide when he was just a couple years older, and got into hard drugs like meth when he was 16. He actually says he considered it the love of his life. In spite of all of this, including a heart attack at the age of 20, he turned things around, and has been clean for the past seven years. What's interesting about his story is that in the current news cycle we aren't seeing a lot of coverage from the point of view of coming back from addiction. It's always more about the high numbers of deaths. So Michael also helped inspire the launch of a new feature called The Comeback, which is going to be folks who used fitness to turn their lives around. Jockey was the perfect partner for us here. Their new slogan is "Show us what's underneath." What's amazing about this campaign is the backstory of the guys they are featuring. And that's what The Ultimate Guy search is also about.
The Adventurist, on the other hand, is new for us. When Matt Bean joined, we assigned him to be an idea machine. He can conceptualize a business-minded editorial product as well as anyone. This was one of his first ideas and a program Matt really wanted to bring to the forefront.
We also wanted to find a partner for this that would enhance the journey. Fitbit Ionic was launching and we talked about our idea and we worked together to make that vision come to life. From there we developed cobranded content.
Folio: Tell us more about the cobranded content and how you're working with Fitbit.
CP: The discretion is on editorial. It's our job to make sure the Fitbit integration is viable. We first worked with edit to learn what Clint Carter [star of the video series] was trying to learn. Then we took those ideas and ran them by Fitbit to make sure they didn't have concerns.
The first video in the series is on Clint learning to walk on slackline hundreds of feet in the air, and the second will be ski jumping. I can't tell you much more because it hasn't launched yet, but I can tell you it's pretty intense.
When it's cobranded content like this there aren't six rounds of approval, which takes a lot of pressure off both sides, but especially the client. They have dozens of programs running and it benefits them to not have to be involved, and they trust us.
Folio: Do you develop these products with particular platforms, like video, in mind?
CP: We didn't create these programs with any platform in mind. It was laid out in advance how we would leverage each of them. Our audience is largely unduplicated so we needed to figure out how to create products like this that work well on every platform. This shows our audience is that we're focused on our them from every angle.
Folio: So then where does print fit in within your business model at this point?
CP: Take the new Jockey program for example. That's almost 50/50 in terms of the platform distribution. Without the magazine that program doesn't have the same emphasis. And for Fitbit the program is largely digital, but print is still a big part of the campaign. I don't know if it takes off without the print element. Fitbit wanted print to be a big part of it.
Of course money is shifting towards digital and we see that, but our partners want to work with us in print, too.
Meet the Author
---