After Men's Health's acquisition by Hearst in January, the magazine recently appointed Richard Dorment as its new editor-in-chief, starting April 15. He will report to Esquire editor-in-chief, Jay Fielden and to Hearst Magazines chief content officer, Joanna Coles.
Dorment is replacing Dave Zinczenko who is serving as interim editorial director after Matt Bean left the magazine in January.
"I'm thrilled to be joining Men's Health at such a critical time for men across America," says Dorment. "We're writing our own rules as we strive to become stronger, faster, better versions of ourselves—better partners, better parents, better friends and better men."
Most recently, he served as senior editor for Wired where he edited a variety of content, special issues and service packages as well as oversaw the launch and growth of the "Ideas" section of Wired.com and hosted "Pitch Distilled," the brand's event series. Prior to this, Dorment served as an editor at Esquire for nearly a decade.
"It's going to be a real pleasure to work with Rich again," says Fielden. "He's got tremendous range and versatility as an editor, and his experience lines up perfectly with Men's Health."
---
Here are the rest of this week's people on the move…
BuzzFeed has named Melinda Lee as its first-ever chief content officer of BuzzFeed Media Brands, a newly formed division that houses different lifestyle and home brands such as Tasty and Nifty.
Most recently serving as SVP and general manager of video at Meredith, Lee will oversee the editorial and business operations of BuzzFeed Media Brands as well as the growth and partnership of the company's advertising, commerce and studio teams.
Jonah Peretti, CEO and founder of the company, says, "I'm excited to see her apply her deep experience building out brand portfolios to help us quickly grow our media brands group."
Complex Networks has hired former Bauer exec Christian Baesler as president, a new role reporting directly to CEO Rich Antoniello, in which he'll be responsible for growing the company's full portfolio of brands, including its flagship Complex. Baesler spent the last ten years at Bauer Media Group, rising to president of the company's online division in 2014. He then oversaw Bauer's relatively rapid transition from print-centric publisher to a digital media business that now attracts over 150 million uniques each month.
The Atlantic has tapped Christi Parsons to lead its new newsroom recruitment and staff development initiative, Talent Lab. She will work closely with Jeffrey Goldberg, editor-in-chief, and Matt Thompson, executive editor, to help launch and lead the Talent Lab in its mission to streamline editorial recruitment, retention and advancement.
With almost three decades of journalistic experience, Goldberg says, "Christi brings with her an unparalleled network of journalists, which is why we couldn't wait to have her assist us as we embark on our expansion plan."
In addition to this hire, The Atlantic has also named the first editor and four contributors to its upcoming section for ideas, opinions and commentary at TheAtlanic.com. Current politics editor, Yoni Appelbaum, will serve as the section's editor alongside Goldberg and TheAtlantic.com's editor, Adrienne LaFrance, and Annie Lowrey, Alex Wagner, Ibram X. Kendi and Kevin D. Williamson will serve as the contributors.
Lowrey most recently covered economic policy for The Atlantic and Wagner currently hosts the podcast "Radio Atlantic," and is a correspondent for CBS and co-host of "The Circus" on Showtime. Kendi is a professor of history and international relations at American University as well as the  founding director of the Antiracist Research and Policy Center. And Williamson is joining The Atlantic after a decade at National Review and The New Criterion where he served at a theater critic for years.
"These are all writers whose force of intellect and acuity of insight reflect our ambition for the new section," says Goldberg.
Vanity Fair has several moves in the works. Kira Pollack was tapped as deputy editor for the magazine–the number two position under editor-in-chief Radhika Jones–from her post as deputy editor at Time. Other moves include:
Joe Hagan

was made a special correspondent from his stint at

New York

magazine.

Joy Press

will join as a TV correspondent and is best known as being the author of "Stealing the Show: How Women are Revolutionizing Television."

Sonia Saraiya

of

Variety

was hired as a TV critic.

Former writer for

The Ringer

and the Los Angeles Review of Books,

K. Austin Collins,

will be a film critic for the magazine.

Richard Lawson

has been promoted to chief critic and has been with the publication since 2013.
Condé Nast France has appointed Yves Bougon as its next president, effective May 7. Bougon is superseding Xavier Romatet from his current role as CEO and representative director of Hearst Fujingaho.  
"I have always had a passion for print, news and media in general. Ultimately, the success in our business is always about people, and I know I am joining an excellent team of talented professionals," says Bougon.
Marketing agency NA Collective, with clients such as Tommy Hilfiger and Twitter, has tapped Jennifer Whitney as creative director where she will oversee creative across all clients. She will report to Chiara Adin, founding partner and chief creative officer.
Her appointment comes at a time when NA Collective is looking to expand their involvement with events. Whitney most recently served as design lead at Refinery29 where she worked on projects like the entertainment for the company's 29Rooms experience.
"We were drawn to Jennifer's ability to bridge gaps in culture, technology and lifestyle when building experiences," says Adin. "As we continue to work with brands to push the boundaries with adventurous activations, we are thrilled to have her on board and bring new levels of thinking to how marketers approach experiential."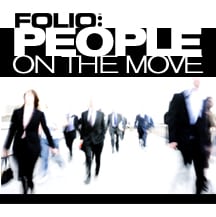 Chris Guarino was hired by The Hill as an executive producer for the recently-formed television division. He will work with Krystal Ball and Jamal Simons to the launch a slate of upcoming streaming programming this spring. Guarino is joining the brand with an extensive background in television production with experience at CNN as an executive producer and PBS as a senior producer.
Bon Appétit has announced editorial leadership changes including the promotion of Andrew Knowlton to editor-at-large of the magazine and the promotion of Julia Kramer who will be superseding Knowlton as his former position as deputy editor.
GQ writer Caity Weaver is joining the New York Times's styles desk and will also serve as a Times magazine's writer-at-large.
Business Insider has also recently made several moves within their staff. Greg Sandoval was made senior reporter, Julie Gerstein as senior news editor, Daniella Greenbaum as political columnist, Exa Zim as associate producer, and Rosie Percy joined the company's London-based distribution team.
Vox Media made several changes to their staff as well including the addition of Kolby Yarnell as general manager of Concert, the promotion of Andrew Golis to VP of network development and the move of Britt Aboutaleb from Racked's editor-in-chief to general manager of Curbed and Eater.
Returning to Politico as a national political correspondent, Ben Schreckinger is leaving his post at GQ. And leaving Politico from her role as editor is Susan Glasser, who will join the New Yorker as a full-time staff writer.
Lauren Goode is was hired as a senior writer for Wired after serving as an editor for The Verge.
Former global managing director of the Havas Group, Dominique Delport, was tapped as Vice Media's chief revenue officer as well as president of international.
Rodrigo Brandão will serve as the new director of communications for The Intercept from his role as VP of marketing and publicity for film distribution company, Kino Lorber.