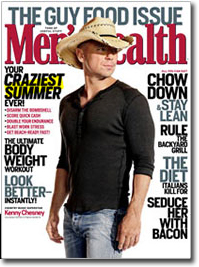 On the heels of Adobe's Content Viewer debut, Rodale's Men's Health brings its content to the iPhone. Though the publication already has a portfolio of one-off apps available for the platform, the latest iPhone app will include the magazine's monthly offering in its entirety.
"The idea of getting the magazine on the iPhone is something we've wanted to do for a long time, because our readers are a perfect audience for it: They're traveling, they're at the gym. This is a great way for them to dip into the magazine content to reference a workout at the gym, for example. When we learned that Adobe was making this technology available, we wanted to take advantage of it as soon as possible," says interactive design director Sean Bumgarner.
The first version of the iPhone app will be a static PDF, as was Men's Health when it first arrived on the iPad. An optimized version (which will include live links, video content and HTML feeds) will drop in the first week of August with the publication's September issue.
During its development phases, Bumgarner said readability and usage across different devices was paramount for the new app, "The form has to shape how you present content; even the regular iPad has a much smaller screen size than a magazine page. We had to figure out the economy of the design and how that really translates."
Bumgarner leads a centralized digital edition development team at Rodale that aids each brand's editorial and creative teams in translating print issues to a portable screen. This staff will work directly with Adobe in the continual evolution of the new app as the mobile space expands. Bumgarner says that by working closely with the vendor, Rodale will be able to gauge what audience response is, and build technology around these results.
Current iPad subscribers will be able to access the iPhone version, and vice versa. At this point, Rodale does not bundle print and digital subscriptions; the magazine's digital version of Men's Health is available for $23.99 annually.
"Both the iPad and iPhone apps have the same binary, or the same code. Since they're equivalent, Apple looks for the device and gives the purchaser the rights to any digital edition," Bumgarner tells FOLIO:.