Men's Health: The Men's Health Urbanathlon

Three races, three cities, three weekends.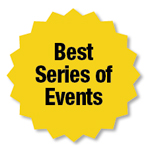 In some ways, a good race and a good event are measured similarly: They're both about breaking records. In 2012, the Men's Health Urbanathlon series geared up for its sixth year with twelve event sponsors—twice as many as the highest previous year.
The Urbanathlon as an event lends itself to creative collaboration between Men's Health and its partners. The series comprises races in New York, San Francisco, and Chicago, integrating city landmarks into three endurance courses on three separate weekends. Last year, 8,500 racers hopped over cabs in New York, scaled the stairs of San Francisco's AT&T Park, or ran along Chicago's Navy Pier. After crossing the finish line, an additional 21,000 celebrants hailed the conquering heroes at each event's festival component.
Last October was the Urbanathlon's second year as a three-city event. "Going to this national footprint has brought us to a new level, sponsorship-wise," says Eric Hunter, associate publisher of integrated marketing. "And that really allows us to grow the events."
A good example of sponsorship participation this year, he says, was with watch brand Tissot. "We really worked with them so they would own all the timing elements of the race," Hunter says. "The timing chips, the final forty-yard dash—those were all branded Tissot."
Retail partner REI provided locations for two days of race-packet pickup in each city, while tire brand Kumho contributed obstacles to the course itself. But planning a successful series of events that is now established in three cities requires extending the hand across the table to multiple agencies.
"Having grown into a consistently three-market series, it's really about working with great partners," Hunter says. "Because we're in the center of these cities, there's so many different agencies involved. One thing we've really learned is how to manage those relationships and keep them going."
As the Urbanathlon moves into its seventh year, more partnerships have been incorporated into the event's growth strategy, including developing a race trainer referral program with the National Academy of Sports Medicine. But to keep the participant return rate at a strong 40 percent or higher, Men's Health's most important relationship is the one it has with its attendees.
Extending Registration
Registration for the three 2013 Urbanathlons will open two months earlier than in previous years. To keep racers engaged until the race weekends in October and November, the brand is specifically working to develop new training content that can be distributed to their audience.
"The minute we open sign-up for the race, one of the most common questions we see on our Facebook page is 'How do I train for this?'" Hunter says. "We're working with our team to develop some new Urbanathlon workouts and get those out across all of our platforms."
When it comes to the Urbanathletes themselves, Hunter says it's one more relationship with room for record-setting growth.
"We'd love this series to expand into other major markets around the country," he says. "It's something we hear a lot about from the racers, especially on Facebook: bring it to Atlanta! Bring it to Richmond! Bring it to Toronto!"
Meet the Author
---