Men's Health Guides Readers to the Next Tasty Pint

Magazine creates GPS-enabled "Jimmy the Bartender" app for iPhone.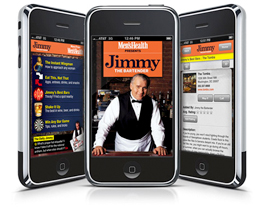 A thirsty beer lover + a GPS bar locator = a wonderful idea.
Rodale's Men's Health has taken its regular "Jimmy the Bartender" column in the magazine and created an application for it for the iPhone and iPod Touch. The application uses GPS technology to guide imbibing users to the next watering hole, all in proximity to the user's location.
Additionally, the application features hundreds of "Ask Jimmy" Q+As, drink recipes and allows users to submit their own reviews and photos to the application database. It even offers advice on tipping and on flagging down the bartender.
"We're not just turning over the keys to a developer, or re-purposing content from the publication—we're creating exciting new ways for the user to interact with our brand," Rodale senior vice president and Men's Health editor-in-chief David Zinczenko said in a statement. "Simply put, this is one of the most sophisticated applications to be developed by a magazine brand to date."
Sophisticated? Maybe. But what really matters is that users not drop their iPhones in their umpteenth pint while trying to locate the next tap on the crawl.
Meet the Author
---