Men's Health and Women's Health Launch Facebook Contest

Photo-based challenge aims to capitalize on recent fan growth.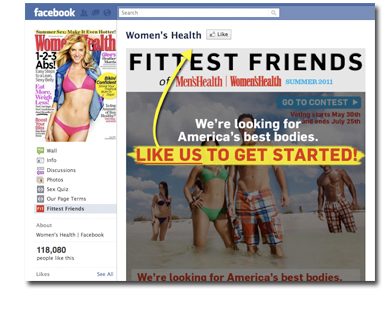 Publishers have long been looking for ways to enhance their Facebook fan pages with integrated campaigns that drive engagement and tightly integrate Web site and Facebook traffic. Accordingly, Rodale's Men's and Women's Health brands are each launching a Facebook contest called the "Fittest Friends of Men's Health and Women's Health." Fans can upload photos of themselves, which will be judged by other fans and, ultimately, a panel of celebrity judges.
"We're looking for something that's very deep engagement, high activity and relevant to the brand," says Eric Goeres, executive director, digital creative development for Menshealth.com and Womenshealthmag.com.
Men's Health and Women's Health Facebook fans have grown 66 percent and 72 percent respectively since January 2011. They're currently at 137,000 and 118,000.
The contest, which runs until July 24, encourages Facebook fans to upload photos of their physiques. Prospective contestants, of course, must "like" the brands before they can participate.
A first-round voting process invites the sites' fanbases to vote on six-up photo displays, culling the list down to 10 finalists for each gender. From there, a celebrity panel including LA Clippers forward Blake Griffin, LPGA golfer Michelle Wie, an agency scout from Wilhelmina and the editors-in-chief of Men's Health and Women's Health, David Zinczenko and Michele Promaulako, will determine the grand prize winners.
Grand prize winners, one for each magazine, will be featured as fitness models in upcoming issues and receive a trip to a Mexican wellness resort.
Goeres says the contests will not simply exist as static features on the Facebook pages, editorial packages will surround the programs and link from the brands' Web sites and back. "We'll provide some edit around it as well. We'll have articles and tips around how to take a good fitness photo and getting in shape," he says.
Rodale partnered with interactive contest producer Strutta to create the Facebook application. The concept ports the user generated content strategy magazine brands have long been pursuing into the social media realm.
Through the application-a standard builder costs $299 plus $99/month, while the "pro" version, which offers broader media integration, is $1,999 up front and $199/month, according to Strutta's Web site-publishers can track traffic and activity and edit the contest through a Web-based dashboard.
The contest, says Goeres, will be promoted through Facebook, Twitter, newsletters and on the Men's Health and Women's Health Web sites.
Meet the Authors
---