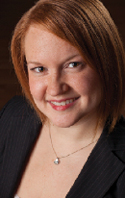 Manager, eMedia Strategy & Development
Stagnito Media
Age: 28 
Takeaway: Recker's digital initiatives have increased average time on site to over 10 minutes and boosted monthly uniques by 51 percent across the company's websites.
For Mehgan Recker, manager of emedia strategy and development at Stagnito Media, innovative thinking is the path to transforming ideas into digital realities.
Recker graduated in 2005 with a degree in journalism. She told herself, "If I ever have to learn HTML, I'll get a new career. I don't want to write for a daily website." A year later, Recker joined VNU as a junior editor and learned of her enthusiasm for digital publishing. Thus, she made it her new career and much to her old self's chagrin, became quite proficient in HTML. Eventually, Recker advanced to associate news editor for Convenience Store News until Nielsen Business Media's (formerly VNU) retail food group was acquired by Stagnito Media.
Currently, Recker is responsible for carrying out all digital strategies and emedia product development, along with maintaining seven b-to-b magazines and a custom media division. In total, she heads 16 websites, 6 mobile sites and 18 regularly scheduled e-newsletters. "I wear a lot of different hats," she tells FOLIO:.
Recker's work requires what she labels "blue-sky thinking." She actively keeps a creative mindset, coming up with ideas that she strives to make into actual digital products.
For Recker, an ongoing accomplishment is trying to implement the digital-first publishing model into Stagnito's brands. "I read a ton of different newsletters on digital publishing, and anything I see as relevant for our brand, I forward along."
Recker has brought average time on site above 10 minutes by overhauling engagement tactics for Stagnito's websites. Through implementing a digital-first strategy and understanding the importance of targeted SEO investments, average monthly page views have grown by 46 percent to almost 500,000 company-wide, and unique monthly visitors have increased by 51 percent across all websites from when she took the position less than two years ago.